asphaltsee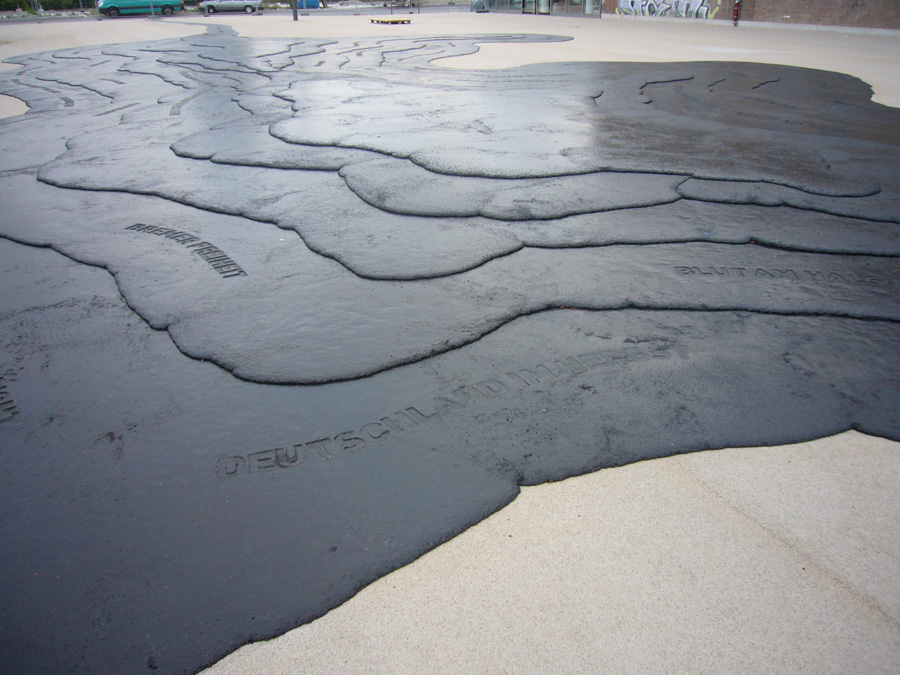 Wilhelm Koch, Asphaltsee (2007)
Rainer Werner Fassbinder Platz München
shown with gracious permission of artist. more here.
Asphalt base about 400 square meters, incorporating 60 tons of hot (245°) asphalt.
Into the asphalt surface are impressed the titles of 43 films and 11 theater and radio plays of Rainer Werner Fassbinder.
*
Koch writes —
Fassbinder is incredible —
His creativity is excessive, unrestrained;
Does not define and does not monopolize;
Shows radical cold, radical love, radical despair, and radical anger;
Questions civic institutions and is critical of the State;
Is rigorous and maladjusted;
Is expansive and baseless.
Asphaltsee is accessible and usable — in line with Rainer Werner Fassbinder.
(my Google translation derived English; improvements encouraged!)
Via visualsyntax, who also points to Koch's BauKunstWerk Asphaltkapelle (Asphalt Chapel) in the fields of the Oberpfalz (Etsdorf), where there's an Asphaltkapellenfest — 2012, 2012, 2010, 2009, and 2008.

18 August 2012
tags: asphalt; Rainer Maria Fassbinder; Wilhelm Koch