calumniating signal books, and telegraphic dispatches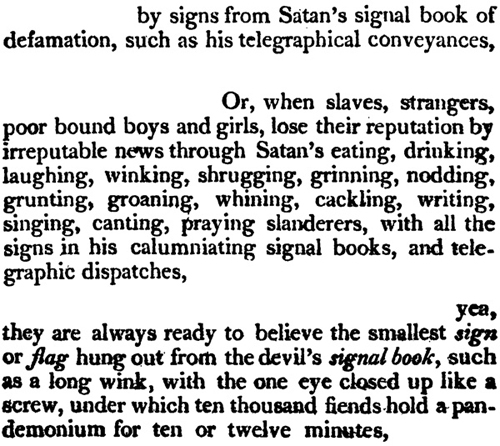 Passages from pages 61, 66 and 160, Richard Ferguson his Abaddon's Steam Engine, calumny, delineated: being an attempt to stop its deleterious results on society, the church, and state, called bitterness… by a lover of mercy rejoicing over judgment. (Philadelphia, 1817) *.
Prompted by recent post on the word abaddon, here (via mythology of blue), which brought to mind this energetic jeremiad on calumny and the devaluation of names, and moreso these usages of signal book and telegraphic.

12 October 2012
tags: abaddon; calumny; signal books; telegraphic