crusted ores, paragenesis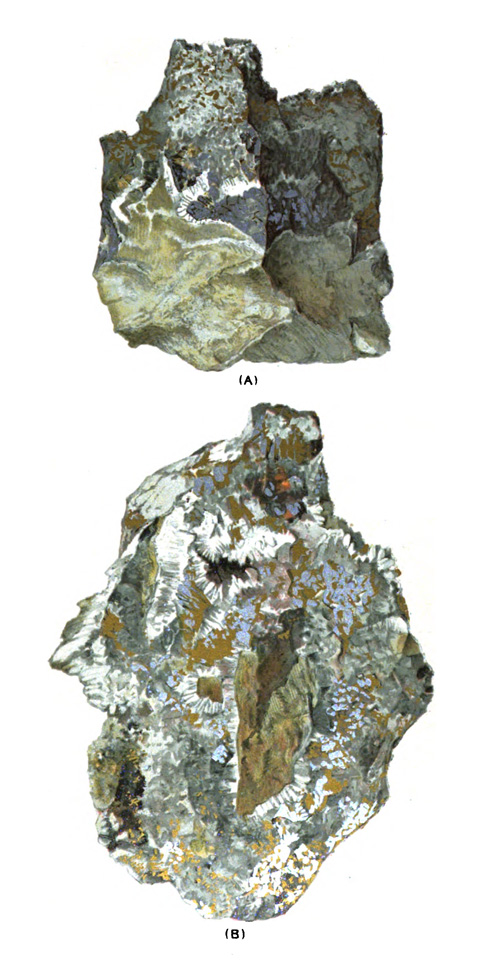 Plate LIV.
(A) Crusted Ore, Florence Mine; (B) Crusted Ore, Big Seven Mine
Shown above minus printer's border, ditto engraver's H H N and Julius Bien & Co. Lith NY.
All visible at source.
ex Walter Harvey Weed, Geology of the Little Belt Mountains, Montana, with notes on the mineral deposits of the Neihart, Barker, Yogo, and other districts... Extract from the Twentieth Annual Report of the Survey, 1898-99, Part III—Precious Metal Mining Districts. U.S. Department of the Interior, U.S. Geological Survey, 1900. Google scan of Harvard copy, here.
The printing and layout of this volume, even refracted through Google's scan — as exemplified here by the quality of the lithographic print and the centered arrangement of these two rock specimens above their respective (A) and (B) — is remarkable. And then there's the elegant descriptive writing —
Paragenesis — The association of the minerals with one another and their order and mode of formation constitute paragenesis... ¶ In the primary vein-filling pyrite appears to be the earliest-formed mineral, followed by blende and galena. Specimens of crusted ores from the Big Seven mine are illustrated in Pl. LIV, A... cont.

30 December 2012
tags: lithography; mining; paragenesis; symmetry; W. H. Weed