a different area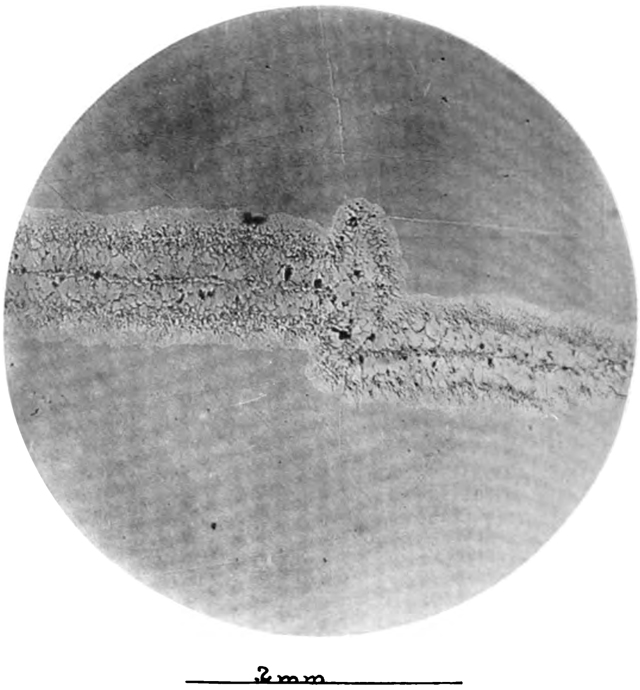 *
Plate XIII. B.
Photomicrograph of a different area in the polished section illustrated in (A). Similar in all respects to (A), except that it shows a kind of banding of the limonite and quartz on each side of the center of the veinlet of chalcocite. The notes on (A) are equally applicable to this section.
illustrating Francis Baker Laney, "The Geology and Ore Deposits of the Virgilina District of Virginia and North Carolina." Bulletin No. XIV, Virginia Geological Survey, 1917.
*
—
I wonder whether fieldwork and, here, the subsequent investigations that Laney carried out in the microscopical laboratory of the U.S. Bureau of Mines in Salt Lake City, Utah was motivated — as it is manifestly rewarded — by the sublime beauty of carefully prepared specimens such as these.
The author, in his preface, acknowledges the support and assistance of many, including the people of the district, "who without exception were greatly interested in the work and were always willing and glad to render any assistance within their power." *
Francis Baker Laney (1875-1938)
Francis Baker Laney Papers, MG 002 Special Collections and Archives, University of Idaho Library, Moscow, Idaho
short bio and description of the collection

tags: aesthetics of technical images; chalcocite; economic geology; photo micrographs; rounds; sociality
F. B. Laney