the enemy of the garden, is nature.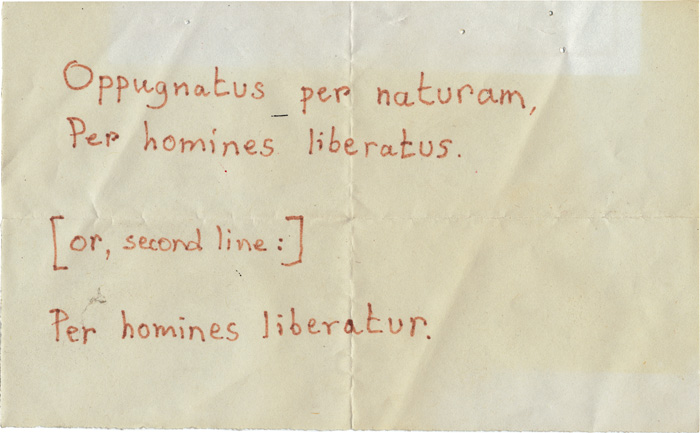 Attacked by Nature,
Rescued by Man.
Mr Korondi lived around the corner from us. In earlier years (we've been here since 1991) he and his wife were very much part of the scene, taking their daily constitutionals in grand style, arm in arm, dressed as if for a Sunday stroll in a public square in the old country, Hungary. Frail then, her still-erect carriage suggested she'd been a beauty.
Mr Korondi continued his walks after his wife's death and even after his own fall, aided by a stroller and an assistant (I remember several of those, each charming and interesting).
Sometimes we talked, about gardens, or literature, or my sons. Our exchanges are mostly lost to memory, with these exceptions : he had something shrewdly prescient to say about my older son, and we agreed that gardens need language. I must have mentioned and even shown him photographs of Ian Hamilton Finlay his Stonypath / Little Sparta (which I had visited).
Soon after that exchange, he presented me with this piece of paper, with his Latin. (later note: Or is this my wife's uncertain translation, back from English?) I used his epigram — in English translation — along the side of a vertical railroad tie (photo here). The vinyl lettering in the garden is even more ruined than this faded slip of paper, that's been pinned above my desk for years.
I'm trying to locate Mr Korondi's books of poetry.
Andrew (Andras) Korondi, poet. 23 February 1923 — 15 June 2013.
—
Andrew Korondi
"Korondi, Andras, poet, essayist, and critic, born in 1923 in Budapest, was raised in southern Hungary. He attended the Royal Hungarian Jozsef Nador University in Budapest. After fleeing his native country in 1948, he lived in Austria, Switzerland, France, England, and Germany. He came to the United States in 1951.
"Korondi published his first articles and poems in the weekly Liberty, and in the conservative daily, Hungarian Nation. After World War II, he conributed to the moderate review, New Times, and the Catholic weekly, New Man; was on the editorial staff of the Our Fatherland, weekly, and the short-lived anti-communist daily, The Tomorrow. After entering the United States he became editor of a Hungarian weekly chain of papers published in Trenton, New Brunswick, and Perth Amboy, all in New Jersey. He held jobs as assistant production manager and as production planning manager with two national manufacturers.
"Major publications in Hungarian: Vihar után, 1945-1951 (After the Storm) (Poems, published by Independence, Trenton, N.J., 1952), Orzom a Hazat (I Watch the House) (Poems, published by Hungarian Life, Toronto, Canada, 1961). His major essay: 'Two Types of Hungarian Vers Libre' (Hungarian Life, Toronto, Canada, 1961)."
ex Leslie Konnyu, Modern Magyar Literature : A Literary Survey and Anthology of the XXth Century Hungarian Authors. The American Hungarian Review 2:3-4 (1964) : p 108.

tags: orts; philosophical gardens; Andras Korondi; Ian Hamilton Finlay