by the accretion of sparse, 1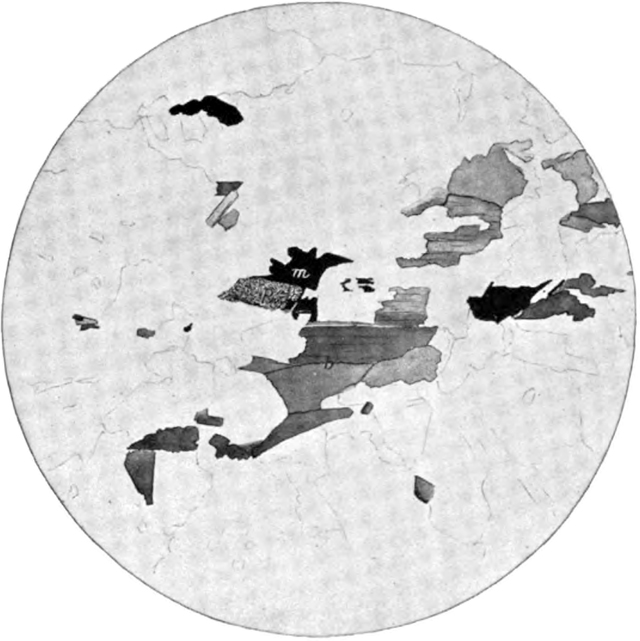 *
Plate XVIII (cropped from border and page)
A. Original pyrite in grantic phase of alaskite
Original pyrite in granitic phase of alaskite associated with magnetite (ilmenite ?) and pyrite. Drawing from thin section 165, granitic phase of alaskite from Mary tunnel. b, Biotite; m, magnetite (ilmenite ?); p, pyrite. Enlargement about 60 diameters.
ex Josiah Edward Spurr (1870-1950 *). Ore Deposits of the Silver Peak Quadrangle, Nevada. USGS Professional Paper No. 55. Series A. Economic Geology, 77; B. Descriptive Geology, 96; D. Petrography and Mineralogy, 33. 1906
*
University of Michigan copy, digitized February 20, 2010
Of the enormous sample — taken from the whole of Silver Peak Quadrangle — and thin sections therefrom, this is what was chosen for the photomicrograph. At this granularity, the distinction of aesthetic/nonaesthetic is vanishingly thin.
epigram ex p 103.

8 January 2014
tags: J. E. Spurr; economic geology; magnetite; photo micrographs; rounds