telegraphic codes and message practice
scanned code directory
police and forensic codes
Police codes are of interest for the window they provide onto social mores of their time, but also for their arrangement of topics. In some cases, these are presented in the order in which a police report is to be written; in some others, they are presented thematically. That step-by-step, facet-by-facet construction of a message is found also in certain (private) commodities codes, and in other codes having to do with reports, e.g., meteorological and astronomical codes. It is in police and forensic codes, too, that we find a kind of ekphrasis, in the development of verbal portraits, sometimes with rather subjective or expressive terms (see Barnard 1895 for examples).
This section is new, created on the discovery of a scan of the International Police Telegraph Code (1930), and will be undergoing expansion in coming weeks. (3 August 2014) Some — not all — of these have been digitized. I list here the codes I have examined, either in physical or digital form (or both). I will endeavor to provide specimen pages for all, in whatever form I have encountered them. (8 August 2014)
1893 Police Telegraph Code of England for 1893
1895 Barnard's Universal Criminal Cipher Code
1895 Pictures by Telegraph W. H. Lowd
1905 Tompkins' Sheriffs' Telegraph Code
1905 The Police Review Cipher Code, Fifth Edition
1906 Guthrie's Police Code
1907 Un Code Télégraphique Du Portrait Parlé R. A. Reiss
1911 The Peace Officers' Telegraph Code H. M. Van Alstine
1915 State and Interstate Police Telegraphic Code New South Wales
1918 Finger Prints : The Code ex Wilder and Wentworth, Personal Identification
1928 Police Telegraphic Code (pp. 204-206 in in Constabulary Almanac &c., &c.)
1930 International Police Telegraph Code
1893
Police Telegraph Code of England for 1893

pp544-548 in George W. Hale, Police and Prison Cyclopaedia (Newly revised and enlarged edition, 1893)
google
Harvard KF3900
digitized 30 April 2008
Hale is identified on title page as Police Department, Lawrence, Mass., Member of the 30th National Conference of Charities and Correction.
An important feature of the code — one that is shared by all many (2 August 2014) police codes, as well as meteorological and astronomical codes, and certain commodities codes (cotton, hemp, &c.) is the requirement that messages be formed in strict order of faceted information.
The phrases are to be inserted in the telegrams in the following order, and to prevent confusion this should be strictly adhered to : —
Offense, or reason of Message.
Person wanted.
Age, height, and build (5 figures).
Complexion, hair, eyes, whiskers and moustache, and shape of face (5 figures).
Peculiarities and distinctive marks (5 figures).
Description of clothing (5 figures).
Where likely to be found.
Instructions.
Registered No. of Office or Chief Officer sending wire as per Police Almanack, page 102.
(See Specimen Telegram.)
| | | |
| --- | --- | --- |
| Phrase. | | Code Word. |
| Wanted at this office on a charge of | Murder | Capital. |
| | Manslaughter | Abhor. |
| | Burglary | Burgle. |
| | Shopbreaking | Balmy. |
| | Housebreaking | Banana. |
| | Horse-stealing | Bridle. |
| | Larceny | Beagle. |
| | Fraud | Combat. |
| | Stealing from the person | Cupola. |
| | Embezzlement | Curdle. |
| | Receiving stolen goods | Cymbal. |
| | Forgery | Digit. |
| | Perjury | Diploma. |
| | Highway robbery | Dirge. |
| | Criminal assault | Disarm. |
| | Shooting and wounding | Disgorge. |
| | Unlawfully wounding | Dismay. |
| | Assault with intent to inflict grievous bodily harm | Embroil. |
| | &c. | |
In the transmission of inland telegrams, figures are counted at the rate of five figures to a word, and the first group of figures must be set apart for the age, height, and build of the person wanted; thus : Age 36, height 5ft. 9in., slender build, should be grouped 36593 ; and when the height reaches 5ft. 10 or 11 inches, the figures must be inverted thus : 05 15. The height given will be the approximate height.
There follows more code: for build, description of head and face, distinctive marks and peculiarities, and description of clothing. Then is given a speciment telegram, followed by a numbered List of Chief Constables of Counties in England, Wales, and Scotland, with their Stations, 1893.
From p547 —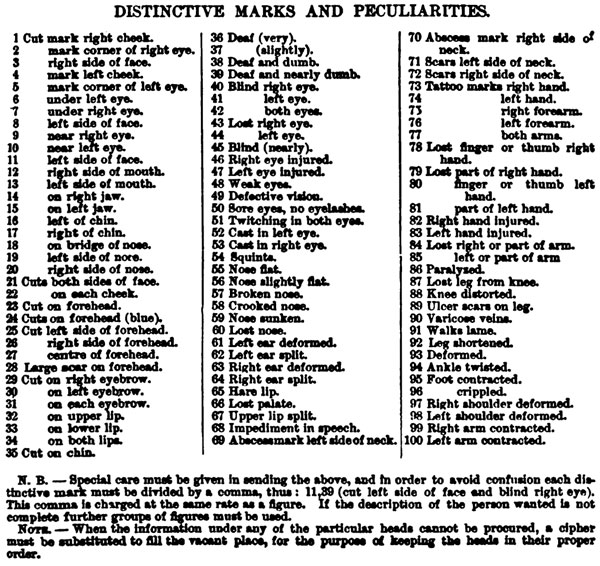 The Specimen Telegram —
Wanted, at this office, on a charge of burglary, a man of the following description, viz.: Age 36, 5ft. 9in. high, stout build, fresh complexion, dark brown hair, blue eyes, black whiskers and moustache, full round face. Has cut on upper lip and abscess mark right side of neck. Dressed, when last seen, in black billycock hat, dark coat, black vest, light mixture trousers, and lace up boots. Please cause inquiries to be made at common lodging houses and other likely places, and if found apprehend and wire.
The registered number of chief office to be put at the foot of telegram.
| | | | | |
| --- | --- | --- | --- | --- |
| Burgle. | Goblet. | 36591. | 54119. | 32,70. |
| Henbane. | 11142. | Lyceum. | Mantelet. | Nutmeg. |
1895
Barnard's Universal Criminal Cipher Code for Telegraphic Communication between Chiefs of Police, Sheriffs, Marshals and Other Peace Officers of the United States and Canada.
Compiled by Floyd Shock.
Published and sold by Geo. D. Barnard & Co., St. Louis, Mo.
archive.org
University of Alberta / LC
3 1/4 inches wide, 6 3/4 inches high; [6], 7-60.

This scan from microfilm/fiche, contributed by the University of Alberta Library, is available through archive.org. It contains the same penciled librarian's annotations as the LC copy, that I examined years ago (LC classification number HE7677 .D4S5).
The user of this code proceeds step by step through a series of facets, or topics, to build up the message. The topics (or facets) differ among the codes — by order and by topic — but not by much.
pp 6-7, Barnard's Universal Criminal Cipher Code (1895), ex archive.org scan
Here, the topics are listed in order along the tabs at right. It will be seen that each topic is accompanied by a one-, two- or three-letter prefix, that would be shared by all of the codewords for the phrases under those respective headings. The topics (and their code prefixes) are listed below.
Arrest Ar
Name (spelled by cipher)
Offence O
Height Hi
Age Ag
Weight We
Hair Ha
Eyes, Eyebrows E
Beard, Mustache, Etc. B
Complexion Com
pp 20-21, Barnard's Universal Criminal Cipher Code (1895), ex photocopy of LC copy
Intelligent face? Brutish features? Cunning, sagacious features? Rather subjective.
pp 22-23, Barnard's Universal Criminal Cipher Code (1895), ex photocopy of LC copy
Features F
Peculiarities P
Maimed M
Scares, Sores, Moles S
Clothing, Foot, Hats C
Watch, Jewelry, Etc. Wa
Nationality Na
Trade T
Location Lo
Time Ta
Dates D
Number N
Amount Am
pp 46-47, Barnard's Universal Criminal Cipher Code (1895), ex archive.org scan
Horses and Mules F
Questions Q
General Information I
Rewards Re
1895
Pictures by Telegraph
Scientific American Supplement No. 1028 (September 14, 1895): pp 16432-16432
T. H. Lowd
—
Report, including detailed example (see below).
A system for sending rough diagrammatic sketches via telegraph; it is not specifically geared to police or forensic communication, but is similar enough to some aspects of these codes that I include it in this listing. It is one of several similar ideas that were developed and even employed into the 1920s, and will be described shortly, under the heading ekphrastic telegraphy. These systems involved a combination of x-y coordinate system plotting, plus description, that when decoded would then be used by a skilled artist for reconstitution. For somewhat different approaches, see my older elementary signs : pictures.
Who was W. H. Lowd? (at least one patent associated with him.
The idea is described and illustrated in the Scientific American article shown below.
T. H. Lowd, Pictures by Telegraph (1895)
T. H. Lowd, Pictures by Telegraph (1895)
The article is derived from Sending Pictures by Telegraph. A method devised by Mr. W. H. Lowd in the Elec. Review (Aug. 21, 1895): 99-100. Because I once went to the trouble of transcribing it, I may as well provide that transcription here:
Sending Pictures by Telegraph.
Mr. Lowd, of Duluth, Devises an Interesting Method of Transmission.
Mr. W. H. Lowd, train dispatcher for the Northern Pacific Railroad at Duluth, Minn., has copyrighted an interesting method of sending pictures by telegraph, which is illustrated and described herewith. Mr. Lowd has been a telegrapher for 12 years, nine of which he has spent with the Northern Pacific Company. He is 28 years of age and hails from the northern part of Minnesota.
The method is a comparatively simple one and should prove of especial value to newspapers in obtaining a map of the scene of a crime, plans of buildings, navy and army manoeuvres and, where telegraph tolls are not too high, portraits and other pictures.
The drawing or sketch which it is desired to transmit by telegraph is traced in an enlarged or reduced form, by means of a pantograph, on one of Mr. Lowd's cipher charts. A section of the chart is shown in the accompanying illustration, Fig. 1. This chart consists of a sheet of paper on which are ruled 476 blocks about a quarter of an inch square, which are each subdivided into nine lesser blocks and squares, numbered from one to nine. Across the top and bottom of the achart are letters designating each of the larger blocks, and on either side are like designations of the blocks running across the sheet, similar to the methods employed in atlases for the location of points on maps. The letters are supplemented by short words which can be used instead. The words are preferable in long-distance messages for the simple reason that in frequent transfers [relay] they are not so apt to be wrongly sent. In indicating lines passing btween the square the fraction is given by using the figures which the line divides, as thus, for instance: 2/3, 3/4, 1/4, etc. In sending curves each square is given through which the curve passes. Blocks to be shaded are named, as are also colors.
After the tracing is on the chart it will be found that each line or curve can be very closely located by the little squares and described by the cipher giving the two dimensions. The points described by the cipher are then sent by telegraph to the receiving end of the line. The operator there has a similar chart before him and follows with his pencil the points given in the telegraphic message. When the tracing is completed it is handed over to an artist, who fills in the sketch as required.
Fig. 2 is a portrait of Mr. Lowd drawn from the chart shown in Fig. 1. The cipher message from which the tracing on the receiving chart was made is as follows :
The word From denotes a new starting point. Keep the pencil on the paper until the word From appears again. When figures follow each other (as 1, 5, 1/2, etc.) they are the ones in the block last indicated by words. The word To is understood.
From Ruth Ned 8 To May mine 6 Josie Nick 8 when Nick 2 great mine 3 great Jim 6/7 bright Jim 5/6 bright mine 8 7 boat mine 1/4 7/8 March mine 3/4 1/3 knight mine 3/5 fish mine 7 foam mine 3/5 foam Nick 7/8 bushy Ned 3 1/8 bushy Nick 7 smoke Nick 3 smoke can 7.
From bushy Ned 3 7 dream Jim 1 gusty mine 5 corner Jim 9 weaver mine 6.
From bushy Ned 7 dream Ned 7 burch Nick 1.
From dream Ned 3 burch Ned 4 [.]
From bushy Ned 3 6 dream Ned 6 6/7 Buffalo Bill 9 weaver Ned 4.
From Buffalo Bill 9 weaver Mack 9 burch Mack 2.
From dream Ned 6 corner log 3 corner limb 8 Buffalo Mack 4 weaver Mack 9.
From dream Ned 4 dream Bill 4 dream Mack 1/7 gusty log ¾ corner log 3.
From foam horn 4 7/8 bushu hall 4 smoke limb 2 dream log 1 dream Mack 1/7.
From smoke fan 2 gusty log 3/4 dream log 1.
From foam fan 2/9 bushy fan 3/9 smoke fan 2 dream hall 5/6 rich wood 2.
From rich hall 5 buffalo fly 5/6 corner fan 8 dream hall 5/6 market man 8 rich log 5.
From foam horn 4 foam fan 1 bushy fly 9 smoke Tom 8 gusty much 2.
From smoke Tom 8 gusty Tom 9 market fly 5 1/9 corner fan 8.
From Ruth Ned 8 Paul Nick 1 3/4 Helen wood 3/4 Helen limb 3/4 Helen hall 1 Helen horn 7 Paul fan 5 Ruth fly 1 burn Tom 9 Josie Tom 1/7 when Tom 1/7 bright fly 5 knight fan 9 foam horn 4.
From March mine 3/4 March Nick 2/9 6 5.
From bright mine 7 6 boat Nick 3/4 bright Nick 6 5 3/4.
From bright mine 2/9 5/6.
From when Nick 4/5 when Ned 2/3 4 when Bill 6 when Ned 5 9 7/8 6/7 5.
From when Ned 9 great Ned 2/3 4/5.
From Josie Bill 7/8 Josie Nick 5/6 4/5 Josie Ned 4/5 when Bill 4.
From Ruth Ned 8 Ruth Bill 1/9 1/6 Ruth Mack 4/5 Paul log 5/6 Paul limb 1 Paul man 8/9 1/5.
From Ruth Mack 4/5 burn log 2 9 May Mack 8/9 Josie Mack 1/2 5 Josie log 1/6 great log 4/5 great limb 2 1 4/5 great man 9.
From great man 1 4 great hall 2 4/5 great horn 7/8 bright horn 8 boat hall 5 March man 1 March limb 5 3/4 boat man 9.
From bright man 5 1/3 8/9 boat man 2 3/4 boat hall 2/9 bright hall 1 5/6 bright hall 6 boat hall 1.
From bushy Ned 3 bushy Bill 1/2 smoke Bill 1 dream Bill 4.
From corner limb 8/9 corner man 1/9.
From Josie mine 5 3 4.
Hair cut close on back of head and neck. Hair parted and combed forward and up.
[end]
A W(esley) H. Lowd was responsible for US Patent No. 1354437 (1920), Train Classification and Number Indicator (*). Is this the same man, or his son?
I do not assume that he was the first to hit on this method of sending pictures by telegraph. Lowd's system is described by Daniel Bellet (1864-1917) inLa Télégraphie des dessins. La Nature 1176 (14 Decembre 1895) : 26-27, which prompted a response in La Nature 1178 (28 Decembre 1895) : 59, in which R. Yve-Plessis points to an earlier system by one Jules Pinaelli.
1905
Tompkins' Sheriffs' Telegraph Code for use of Sheriffs, Detectives, U. S. Marshals, Secret Service Agents and their deputies
P. G. Tompkins; Press of Howard A. Miller Co., Los Angeles
LC HE7676.G9
180pp + index (seven unnumbered pages)

no digitization; will describe and post scans of photocopied specimen pages, shortly.
Ablegate / Abandon
Ablent / Abandon for the present.
Ablet / Advise you to abandon.
Abligate / Advise you not to abandon.
—
Kadless / Arrest for seduction.
—
Kiplet / Write will not be issued.
Kipless / blank
—
Kipucent / blank
hats: tables pp96-99, illustrations pp 98-100
1905
The Police Review Cipher Code, Fifth Edition
—
private collection
3 x 6 inches; 32pp

No. 2962

Pirated? Date based on internal evidence (p31, see below).
Note atop page 6 : The word American at the beginning of a message means, I am using the American Detective Cipher Code.

Will add scans or specimen pages shortly.
Codewords share same initial (or initial pair) of letters with their respective topic heading. Thus, Look out for heads:
Load / A white man.
Loaf / Two white men.
Lover / A woman, she is a foreigner.
Loving / A man and woman, foreigners.
and Features heads
Fable / Intelligent face.
Fabric / Dull, stupid features.
Few / Like a laboring man.
Fiddle / Long, slim hands.
Fidelity / Has warts on hands.
some nice code/phrase pairs —
Location / A white man and girl under age.
Lover / A woman, she is a foreigner.
Creosote / Seduction.
Ebony / Is pop-eyed.
Embrace / Downcast look
Emigrate / Furtive expression.
Empire / Avoids looking you in the face.
Fable / Intelligent face.
Fabric / Dull, stupid features.
Fabricate / Bloated appearance.
Fabulous / Hollow cheeks.
Facility / Cunning sagacious features.
Peddler / Is a morphine or opium fiend.
Pedigree / Generally smoking a pipe.
Pen / Lives by his wits.
Pence / Works with female crooks.
Pending / Keeps a woman.
Pendulum / Swears a great deal.
A Horse Appendix appears on pp 31-32, with the following explanation —
To describe the thief, use the regular Code. In giving age of horse, also use the regular Code same as giving age of a man. Amount of award, numbers, dates, time of theft, etc., can be given by use of the Codes as previously published. The following new matter is only for describing color, size and marks of horses, describing vehicles, etc., and general horse information.
This Appendix now becomes a part of the Police Review Cipher Code; adopted November, 1905.
1906
Guthrie's Cipher Code for Domestic and Foreign Business (also used in conjunction with special tables)
Thomas H. Guthrie
Columbus, Ohio
LC HE7677.P76G9
48 p. 16 cm.

no digitization; will describe and post scans of photocopied specimen pages, shortly.
Abacus Abater Abatis > Wicked
1907
Un Code Télégraphique Du Portrait Parlé
R. A. Reiss (1875-1929); Documents de Criminologie et de Médecine Legale, Paris: A. Maloine, 1907
google
Harvard
digitized date
Inspired by the classification system of Paul Otlet, Reiss developed a decimal classification system for Bertillon's portrait parlé procedure and controlled vocabulary.
Reiss observed that Otlet's scheme was inferior to the anthropometrical classification of Bertillon, but saw that decimalization could provide the basis for economic telegraphic transmission of signaletic information. His solution was to retain the Bertillon terminology — e.g., very small, small, medium, large, very large — and to assign to every signaletic term and qualification its own decimal classification number.
ex R A Reiss, Un Code Télégraphique Du Portrait Parlé (1907); content on page 7 rearranged here for presentation in two columns.
It featured a nine-heading decimal classification system. The initial 0 indicates the start of each sign (or decimal cipher). The first two figures of any message do not employ the initial 0, as these indicate respectively age and height (in centimeters). Figures following the initial classification number indicated various sub-categories; e.g., 1,134 for forehead of medium height. The nine categories were
0,1 Front — forehead
0,2 Nez — nose
0,3 Oreille — ear*
0,4 Les Lévres, la bouche, le menton — lips, mouth, chin
0,5 Contour général du profile, naso-buccal — general profile, naso-oral outline
0,6 Profil du crâne proprement dit, général de la face — profile of skull, facial contour
0,7 Les sourcils, paupières, globes oculaires, orbites — eyebrows, eyelids, eyeballs, orbits
0,8 Le cou, les rides, la carrure, la ceinture, l'attitude, l'allure générale, la voix — neck, wrinkles, build, waist, attitude, general appearance, voice
0,9 Yeux, cheveau, barbe, pigmentation de la peau — eyes, hair, beard, skin pigmentation
* Because cartiliginous, ears and noses were important in Bertillon's system.
The message rigorously follows the order of entries on the fiche that were attached to, or the reverse of, side- and front-view photographs of the subject on Bertillon's signaletic fiche, shown below. It thus takes the form of an ordered list of attributes, or facets (much like astronomical and meteorological codes).
ex R A Reiss, Manuel du portrait parlé à l'usage de la police: méthode Alphonse Bertillon, Lausanne and Paris, 1905. scan here, with a guide to abbreviations and special signs (as seen above), here.
The entries shown above refer to the portrait of Reiss shown here —
ex R A Reiss, Manuel du portrait parlé à l'usage de la police: méthode Alphonse Bertillon, Lausanne and Paris, 1905
The treatise concludes with an example of a telegraphic message, in which the savings of words is noted —
Service sûreté Paris.
30 175 01512 0224 0234 0255 02732 03116 03233 03243 03325 03415 03522 04121 04144 04147 0 5221 06214 06218 07151 07161 0911112 0912211 092413
Sûreté Lausanne
total : 29 mots (5 chiffres comptant pour 1 mot).
Service sûreté Paris.
Age apparent 30 Taille 175 sinus dos nex rectiligne base horizontale saillie grande limite particularité cloison non apparete oreille bordure originelle grande lobe traversé limite et dimension petite limite antitragus saillant limite pli inférieur vexe limite forme rectiligne limite particularité sillons séparés orthognate supérieur face longue biconcave sourcils clairsemés blonds clairs lèvre inférieure proéminente épaisseur grand inférieure pendante cou long auréole jaune moyen périphérie intermédiaire verdâtre moyen cheveux blonds foncés.
Sûreté Lausanne
total: 75 mots
More on Reiss — including his later career in Serbia — at wikipedia.
1911
The Peace Officers' Telegraph Code
An economical and secret telegraph code for the exclusive use of all peace officers of the English-speaking world
H. M. Van Alstine
The Peace Officers' Telegraphic Code Company
Portland, Oregon
LC
HE7677.P76V3
318 pages
3-letter code

Will provide further description, and images of specimen pages (from photocopies), shortly.
ABA ABC ABD > YBP
topics in order of instructions. includes illustrations of hats, and body.
Pages 106-107, The Peace Officers' Telegraph Code (Van Alstine, 1911)
from (my) photocopy of LC copy.
Some phrases link with charts.
Pages 280-281, The Peace Officers' Telegraph Code (Van Alstine, 1911)
from (my) photocopy of LC copy.
Yeggman (see XBC through XBF at upper left, above) is American slang for burglars or, evidently more frequently, safe breakers/crackers.
Pages 296-297, The Peace Officers' Telegraph Code (Van Alstine, 1911)
from (my) photocopy of LC copy.
There are several pages of hats in this code.
Pages 106-107, The Peace Officers' Telegraph Code (Van Alstine, 1911)
from (my) photocopy of LC copy.
Like much else in this code, Habit phrases are oriented to the officer on his beat. Lots about chewing.
Pages 160-161, The Peace Officers' Telegraph Code (Van Alstine, 1911)
from (my) photocopy of LC copy.
1915
State and Interstate Police Telegraphic Code.
Police Department. New South Wales
private collection
Described at NSW State Records here.

Bottom of last page (53) identifies printer, thus:
Sydney: William Applegate Gullick, Government Printer.—1916.
43129—E.
Conflicting dates for this code, 1915 or (as indicated on last page) 1916. These photographs (color adjusted by me) are graciously provided by Graeme Morgan in Australia.
This list of contents below is not as detailed as the Index provided within the book; specimen pages are shown under their respective headings.
Index, i-vii
Offences, 1-4,
Pages 02-03, State and Interstate Police Telegraphic Code (1915/16)
So many carnal offences involving children; and with such specificity! —
Agog / Attempt to carnally know girl over 10 and under — — years.
Agonic / Being a school teacher, carnally know pupil under 16.
—
Agora / Carnally knowing his daughter under 16. (over 16 permitted?)
Professions, &c. 4
Trades, Occupations, &c., 4-8
Age, 8-9
Personal description:
Height, 9; Complexion, 10; Hair, 10-11; Whiskers, 11; Beard, 11-12; Moustach, 12; Eyebrows, 12; Eyes, Mouth, Teeth, 13; Face, Forehead, Ears, 14; Lips, Nose, Neck, Body, 15-16; Arms, Hands, 17; Hands, Legs, Feet, Speech, 17; Speech, Peculiarities, 18;
Religion, 18
Dress, 18-19
Dress—Female, 19-20
Luggage, 20
Nationality, 20-22
Character, 22
Accusations, Charges, Warrants, and Evidence, 22-24
Pages 22-23, State and Interstate Police Telegraphic Code (1915/16)
Pailnode / A native of Turkey. should be Palinode.
Inquiries and Information, 24
Identification, 25
Telegrams and Letters, 26
As to Expenses, 26
Property, Jewellery, Bonds, &c., 26-28
Shipping Phrases, 28-30
Result of Cases, 30-32
Officials 32
Dates, 33-42 (e.g., Thoth / The sixth day of August; Turpidosa / Eighteen hundred and ninety-four)
Miscellaneous Phrases, 43-49
Pages 50-51, State and Interstate Police Telegraphic Code (1915/16)
Phrase sequencing seems somewhat haphazard (although can probably be rationalized), e.g.,
Ulcato / Where is she now?
Ulcavum / Was a bankrupt.
Ulcedo / Was born on the.
—
Ultraneo / Will was proved.
Ululato / Is confined in a lunatic asylum.
Umbela / Was confined in a lunatic asylum.
Umbidos / Is married.
Industrial Disturbances, 49-51 (see specimen pages below)
One of the most extensive topics has to do with industrial disturbances — one senses that the police saw their role as protecting the interests of capital.
Pages 50-51, State and Interstate Police Telegraphic Code (1915/16)
Numerals, 52-53 (e.g., Windiness / One; Writative / Sixty-five; Yawningly / Seventy-eight)
1918
Finger Prints : The Code
in Personal identification; methods for the identification of individuals, living or dead

by Harris Hawthorne Wilder and Bert Wentworth. Boston: Richard G. Badger, The Gorham Press, 1918

archive.org
Cornell

archive.org
Michigan

Chapter 6, Finger Prints: The Code (pp 234-259)

Michigan copy digitized 11 December 2006 (by Google? where no longer available; but some pages poorly scanned)
One chapter in a book that develops the Bertillon system, for palm, finger and foot prints. Earlier chapters discuss other distinguishing features, e.g., gait, also manner of speaking, even table manners. But much work remains to be done in these areas; greater progress and certainty is found in finger prints.
Table of contents, Personal Identification (1918)
Below are illustrations of the treatment of finger prints; the book is not focussed on telegraphic codes but rather on description and classification, yet a complete classification system does lend itself to telegraphic expression.
pages 202-203 (not spread), in Chapter 6, Finger Prints : Description and Classification, Personal Identification (1918)
Provision of code words, for the forms shown above, makes it possible to find these in the general classifications presented in the code chapter (see below).
pages 239-240 (not spread), in Chapter 6, Finger Prints : The Code, Personal Identification (1918)
Each chapter of the book is headed by an epigram. Here is the epigram to Chapter 6 —
We had a Rabbinical Divine in England, who was Chaplain to the Earl of Essex in Queen Elizabeth's Time, that had an admirable Head for Secrets of this Nature. Upon his taking the Doctor of Divinity's Degree, he preached before the University of Cambridge, upon the First Verse of the First Chapter of the First Book of Chronicles, in which, says he, you have the three following Words,
Adam, Sheth, Enosh.
He divided this short Text into many Parts, and by discovering several Mysteries in each Word, made a most Learned and Elaborate Discourse.
— Joseph Addison; in the London Spectator, No. 221. Nov. 13, 1711.
1928
Police Telegraphic Code

pp204-206 in Police and Constabulary Almanac, Official Register and Telegraph Code for 1928, being Leap Year.
London, published by R. Hazell
private collection
These photographs were generously provided by Ian Hall, in 2007.

All English dictionary codewords.
I have not ascertained from what larger (?) and/or official (?) source this code is taken.
Messages assembled with this code follow the specified order — (1) offence, or reason of Message; (2) Person wanted; (3) Age, height, and build (5 figures), and so on.
pages 204-205 Police Telegraphic Code, Police and Constabulary Almanac (1928)
open larger size (1541w x 1198h)
Sexual assault is not among the crimes named.
Police Telegraphic Code, page 206, and volume cover (not spread), Police and Constabulary Almanac (1928)
open larger size (1532w x 1244h)
Distinctive mark and peculiarities is the largest category in the code.
1930
International Police Telegraph Code
Translated from the Edition Published by the International Criminal Police Commission.
Printed by the Receiver for the Metropolitan Police District, New Scotland Yard, S.W. 1
National Archives
same, preview
MEPO Records of the Metropolitan Police Office / Records of the Office of the Commissioner and successors / MEPO 4 Metropolitan Police: Office of the Commissioner: Miscellaneous Books and Papers / MEPO 4/221 MEPO 4. International Police Telegraph code

Copyright — Not to be reproduced photographically without permission.
Scan of microcopies made 28 July 1993. Will await arrival of own copy of this code before I post images.
Preface (dated Vienna, September 1926), discusses the rationale behind the code. It was resolved at the International Police Congress in Vienna, September 1923, to prepare a telegraph code similar to the business A B C Codes. A police code already used in the United States was not suited to adoption, because it was alphabetically arranged by English words. A new code would be compiled wholly and solely of a logical sequence of subjects, thereby facilitating translation.
The code is a three-letter code, with no apparent concern for pronounceability or safety (resistance to mutilation); it is suggested that the letter j be inserved after each group of nine letters in order to prevent the cyphers from running together; it is not added that this would generate a 10-letter codeword. Interruptions of cypher by plaintext terms, e.g., names, would be signaled by the addition of the letter w before and after words not in code. For this reason, the letter j and w are not used in the code cyphers.
List of holders outside the British Empire.
Title, (i)
Preface, iii-iv
Index (table of contents), v-x
Civil Status and Personal Description, 1-4
Personal and Physical Description, 5-17
Clothing and Outfits, 18-23
Professions, 24-26
Mixed and Manual Callings, 27-31
Offences, Suicide, Accidents, Persons Missing, Lost, Found, 31-32
Details of Separate and Individual Offences, 33-35
Implements used by Criminals in Thefts and Forgeries, 35-37
Detention, 37-38
Articles connected with offences, 38-49
Receptacles, 50
Animals, 51
Flight, 52-55
Hue and Cry, 56-69
Countries, Cities, Authorities, Counties, Provinces, 70-79
Time and Places, Figures, Prepositions, Alphabet, 80-84