researches on, 2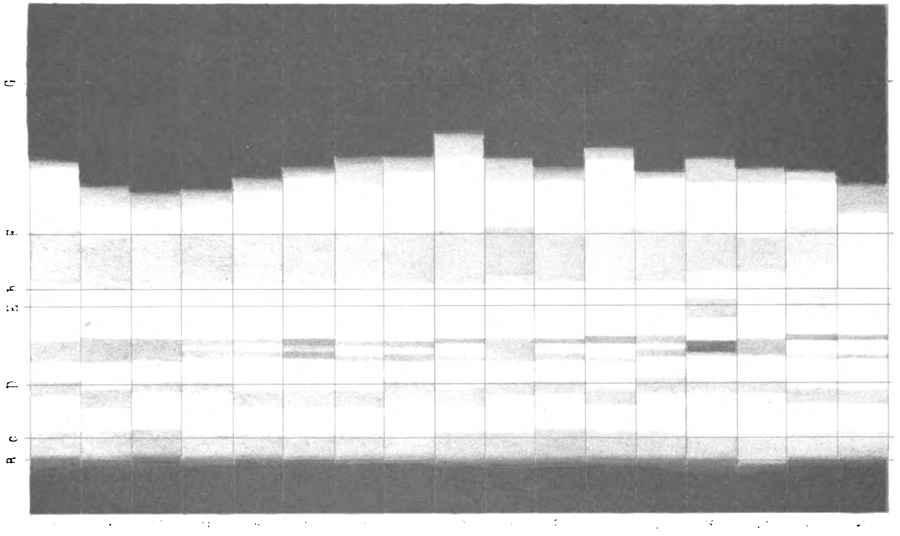 *
Plate 11, Chart II
spectra 1-17 (from amphibians, reptiles, birds, mammals)
illustrating C. A. Mac Munn, M.A., M.D., "Researches on Myohaematin and the Histohaematins." Communicated by Professor M. Forster, Sec. R.S.; Received October 19, Read November 26, 1885. 177 (1886): 267-298
Stanford University copy, no date of digitization.
Specimens exhibited on Charts I-IV discussed pp 296-298
—
Over the last year or so, I have derived a number of posts from the available digitized numbers of the Philosophical Transactions, that soon celebrates its 350th anniversary. Today's post is prompted by this Call for Papers —
Publish or Perish? Scientific periodicals from 1665 to the present
19-21 March 2015
The Royal Society, London
To celebrate the anniversary of the Philosophical Transactions, the world's oldest scientific journal, the Royal Society will be hosting a major conference in spring 2015. At a time when the future of scientific publishing is in flux, this conference will take the long perspective by examining the transformations and challenges in the publishing of scientific journals over the last three and a half centuries, and into the future. We seek offers of papers, or proposals for three- or four-paper panels, which engage with any aspect of the commercial, editorial and distribution practices of scientific journal publishing, in any period since 1665, preferably with a comparative or longue durée perspective.
I cannot find a working link to the conference; the Royal Society must serve.

tags: cytochromes; spectra; C. A. Mac Mun, "Researches" (1886)