what new-fangled notions, afterword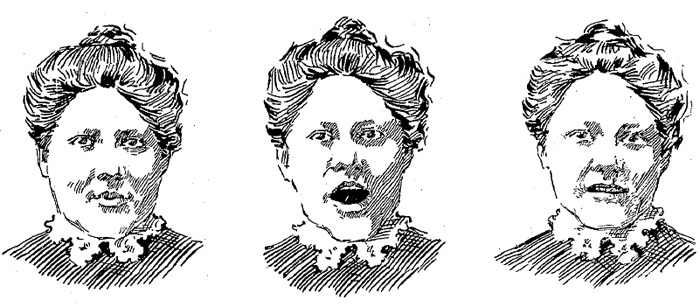 Figs. 1, 3, 16
ex Lillie Eginton Warren. Means for Teaching Reading of the Facial Expressions which Occur in Speaking.
US Patent 726,484, April 28, 1903
*
Having posted all 45 of my derivations, I think it proper to provide some information about Lillie Eginton Warren, whose work is their source.
Lillie Eginton Warren (1859-1926) was a teacher, speech therapist, and author of several books on speech therapy and a system of reading facial expressions for the deaf. Her system of reading facial expressions, and learning to enunciate with them, is described in the patent from which the above portrait is taken; I write this with some confidence, supported by physical descriptions of Warren in passport applications of 1901 and 1916.
I stumbled onto Warren via a patent search for "sentences" (via espacenet). Her patent led to the Warren Method (1898), that consists largely of phrases and sentences, arranged to feature specific sounds to be practiced. The patent is in some ways a necessary companion to the Method, because it illustrates the facial expressions. I assume that the illustrations in the 1902 London edition, which I have not seen, are either the figures from the patent, or photographs from which they probably were drawn.
The patent — and the sixteen expressions, each one of which is illustrated — are discussed here.
As for the phrase sequences, there is no logic to their arrangement beyond the sounds they feature. The exemplary sentences yield poetic non sequiturs throughout, aided by the alliteration that is necessarily built into the 16 categories of sound "expressions."
With only a couple of exceptions, I have restricted the selections in each of my 45 derivations to sentences as they appear on only a single page, and generally in the order in which they appear there. For every selected sentence, of course, several intervening sentences might have been passed over in silence. Forty-five different pieces — indeed, many more than that — might be created from the same source. Immediately below each of the 45 derivations is a link to the digitized page from which it is taken.
One tries to imagine a moment in which Warren might have written a phrase down, how it might have related to her own life or experience. One wants to know more about her life, her students, the families she worked with.
The phrases bring to mind Gertrude Stein's Short Sentences (1932 *) in the way that local opportunities for "meaning" arise, and quickly fall as one reads first one line, then another. Pre-echoing the Stein text, but not evident in my own selections, are personal names that sometimes appear in Warren's sentences, e.g. —
Will William be here? (p14)
How noble in William! (p21)
Rover will be here with me. (p23)
Did James pass the June examination for College? (p80)
John and Virginia have started on their journey. (p80)
I suppose the derivations are a form of cento — a poetical work wholly composed of verses or passages taken from other authors; only disposed in a new form or order.
Lillie Eginton Warren was born in Newtonville (a near suburn of Boston) in 1859 and (until 1904) lived and worked in New York (243 West 21st Street, ca 1898). A possibly self-authored article entitled "Miss Lillie Eginton Warren, inventor of a method of Expression Reading," in The Successful American 5:2 (February 1902) provides a promotional account of her professional work, from which these details —
She came to New York City in childhood, where she received her education in the public schools and the Normal College. She began her life work in 1879, as a teacher of deaf and dumb children. Besides teaching them to speak and to understand speech from the speaker's face, she had considerable success in developing a dormant sense of hearing. In 1892 she opened her School of Articulation, not only for deaf children but for all with defects of speech. It is now located at 124 East Twenty-eighth Street, New York City.
The following year, 1893, was marked by the invention of a method of Expression Reading, the thing that makes her name noteworthy. This is a much-simplified method of teaching to the adult hard-of-hearing what is commonly called "lip-reading." In her work with the child —
Miss Warren had found that the forty-odd sounds of the English language are revealed in sixteen outward manifestations. Though the organs of articulation are more or less hidden, their activity produces certain definite effects on the muscles of the face. These effects or pictures the student memorizes, learning to associate each with its proper sound. Practice enables the eye to follow the changing of one into the other, thus perceiving words and sentences.
In this way the adult is saved from spending many tedious hours in studying articulative movements, and is put directly in communication with other persons.
This invention made Miss Warren at once a leader in her chosen work. She first spoke in public regarding the new invention at a Chautauqua meeting in July, 1894. Her book on "Defective Speech and Deafness" was published the same year. From this time on the work of the school developed rapidly. Branch schools were established in Boston, Philadelphia and Washington. Among her teachers she numbers one of her own pupils. Hundreds have been successfully taught this new method of speech-reading in the last eight years.
*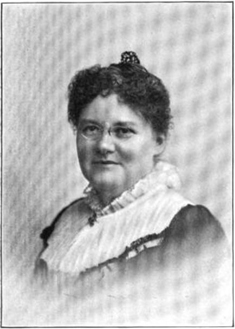 L. E. Warren portrait
The Successful American profile
(February 1902)
More on the Warren Articulation School is found in Edward Allen Fay, Histories of American Schools for the Deaf, 1817-1893 (vol 3, 1893). Progress is slow but gradual, the article concludes : "How gradually can be appreciated by those only who have daily led the pupil step by step, against his will, through the early difficulties of learning to listen."
*
We learn in the above that "six pupils form a morning class, with a session of three hours, from 9:30 to 12:30." The school had three teachers (the Misses Van Ingen, Carpenter, and Holmes); this special education cannot have been cheap.
Warren was the daughter of the American engraver and landscape painter Asa Coolidge Warren (1819-1904) and his wife Hannah (Abigail Allen Hoyt, 1824-?). A brief biography of A.C. Warren is found in Sue Rainey, her Creating Picturesque America : Monument to the Natural and Cultural Landscape (1994), which is devoted to the production of that enormous (20 pounds, 1,000 pages) tome (published in 1874). Five steel engravings of Warren illustrations appear in Volume 2.
Warren spent the last two decades or so of her life in Rome, "for many years with her friend" Joan Leavitt with whom she "shared expenses and property" (according to typewritten remarks on the Report of the Death of an American Citizen, U.S. Consulate in Rome, 1926).
She left the U.S. (her final departure?) in 1904, perhaps following — and even enabled by — the death of her father. Her books were given to the Library of the Church of Santa Susanna there; that (ancient) church had recently become the church of the American community in Rome, and remains so to this day.
Did Warren's path ever cross with the trajectories of Gertrude Stein (1874-1946), Vernon Lee (1856-1935 *), or Willa Cather (1873-1947)?
publications
Birds of the Sacred Scriptures. Their correspondence and signification.
pp. vi. 142. J. Speirs: London; Edinburgh [printed], 1880.
Related Work: Bible. Appendix. Miscellaneous
BL shelfmark(s): 3129.dd.17.
Defective Speech and Deafness.
New York: Edgard S. Werner, Publisher., 1895
5-116 p. 22 cm
University of Michigan copy
available via Google Books (digitized September 10, 2012)
Speech revealed in Facial Expressions. A new method by which the deaf may learn to understand conversation.
New York : E. S. Werner, 1898.
9 p.
BL shelfmark(s): 8304.bbb.4.(7.)
The Warren Method of Expression Reading and Numerical Cipher (1898)
3 p.l., 2-81 numb. l. 21 cm.
LC: PN4111 .W35
available via Internet Archive, digitized November 30, 2012
This is a typewritten copy, probably made to secure copyright protection prior to publication.
The Warren Method of Expression Reading with Numerical Cipher. [Illustrated with photographs.]
ff. 33. James Speirs: London, 1902.
BL shelfmark(s): 11805.g.17.
Means of teaching reading of the facial expressions which occur in speaking.
US Patent No. 726,484 (April 28, 1903)
* (google);** (espacenet)
Facts regarding St. Peter's. By an American resident of Rome.
Rome : L. E. Warren, [1911]
63 p.
BL shelfmark(s): D-7820.aa.42.
WorldCat lists only the BL copy of Birds of the Sacred Scriptures, published in 1880 when Warren was only 21. I would love to see this volume, which suggests to me a literary bent that, while possibly suppressed, surfaces in the sentences in the Warren Method that are the source of my own derivations.
afterthoughts
Will consolidate all of this to a single page elsewhere. And yet these posts have brought some attention to Lillie Eginton Warren.
It's her sentences that touched me, and where I take leave. But what of Warren's ideas? Do they hold up? And even if not, did they help — help her pupils, and help further the practice of speech therapy, and speech for the hearing impaired? Warren appears to have been teaching both speech or/and hearing impaired students. There must be different though some overlapping issues among these. See wikipedia on lip reading, DeafEd, and speech disorders.
What is it, that brings me to these relatively obscure women — Warren here, Viña Delmar (1903-90 *), Hortense Flexner (1885-1973 0375)...
Apologies for these post-post augmentations, second thoughts. I'll stop now.

tags:
cento
Lillie Eginton Warren; Gertrude Stein