home > mcvey hardware > annandale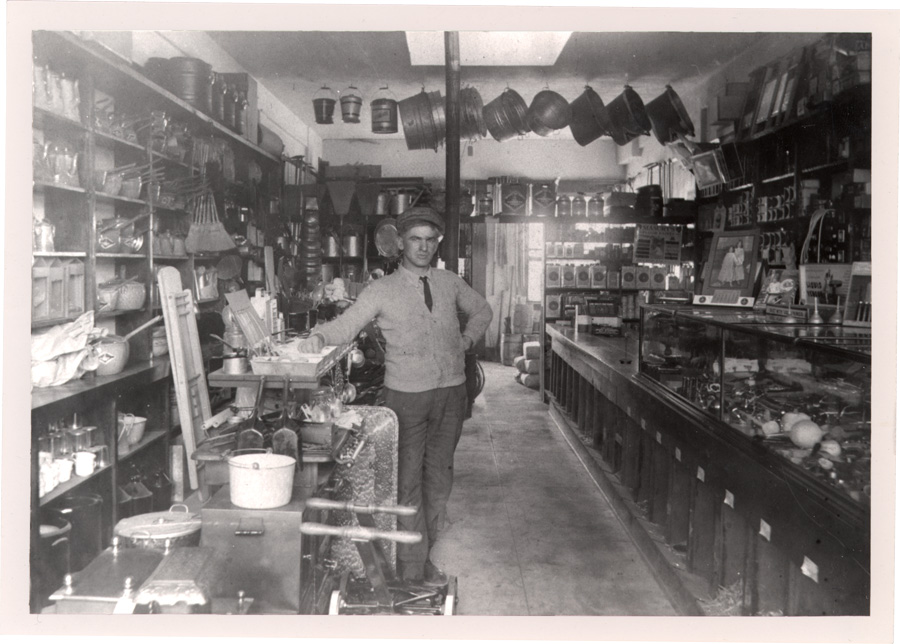 E.H. — Elijah Halford — McVey (1871-1945) brought wife and son from Indiana to Los Angeles around 1910, where and around when he got into the hardware business in the Annandale section of Highland Park/Eagle Rock.
This page focuses on those Annandale businesses, with the following subsections:
background
854 Annandale
810 Eagle Rock Avenue
later
E. H. McVey (10 March 2019)
background
I remember his daughter-in-law Ruth McVey (née Mann) saying that E. H. had been associated with the railroad in Indiana. Without digging too deeply, I can find that his father was John Fletcher McVey (1822-76) and his mother was Caroline Askren McVey (1833-81), the sister of John Fletcher's first wife. E. H.'s grandfather John McVey was born in Virginia in 1790, died in Indiana in 1853.
I notice today (8 November 2013) that E. H. lost his father when his was five, and his mother when he was 10. Wonder who raised him, and whether and how this might have inflected his own character and later trajectory — railroads, California, and impatient passage through at least three businesses (hardware, lunch counter, gasoline station).
E. H. had been a freight conductor for the Pennsylvania Lines (West of Pittsburgh, I & V Division) and for the Vandalia Railroad Company (Vincennes Division); I have here his passes for the years 1903 and 1904 for the first, and 1905-10 for the second. (The Pennsylvania spun off the Vandalia division in 1904, it seems.) I have also his card as a Licensed Automobile or Motorcycle User, City of Indianapolis, dated October 4, 1909. A roster for the Order of Railway Conductors of America, Indianapolis Division 103 for 1909, lists E. H. McVey (living at 910 North Tacoma Ave, and Mrs. E. H. McVey (in the Ladies' Auxiliary) at 16 North Tacoma Ave. (Presumably the family moved, from near, to further from, the tracks.)
The more significant documents, in terms of this narrative, are passes for E.H. McVey, Wife & dep(endent) Son on various lines between Indiana (and Chicago) and Los Angeles. I do not know if these are for one way (west to east) direction, in which case they would indicate a trip back to Indianapolis, or either way. Several of these are shown below.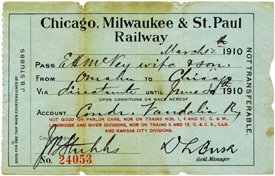 I assume that this trip (and some other passes) would deliver E. H. and his family to Los Angeles. His wife was Cora (M. Watson). This is the Eagle Rock that would have greeted them.


E. H. had stores at two locations on Annandale (later North Figueroa). It is not easy to connect interior with exterior views.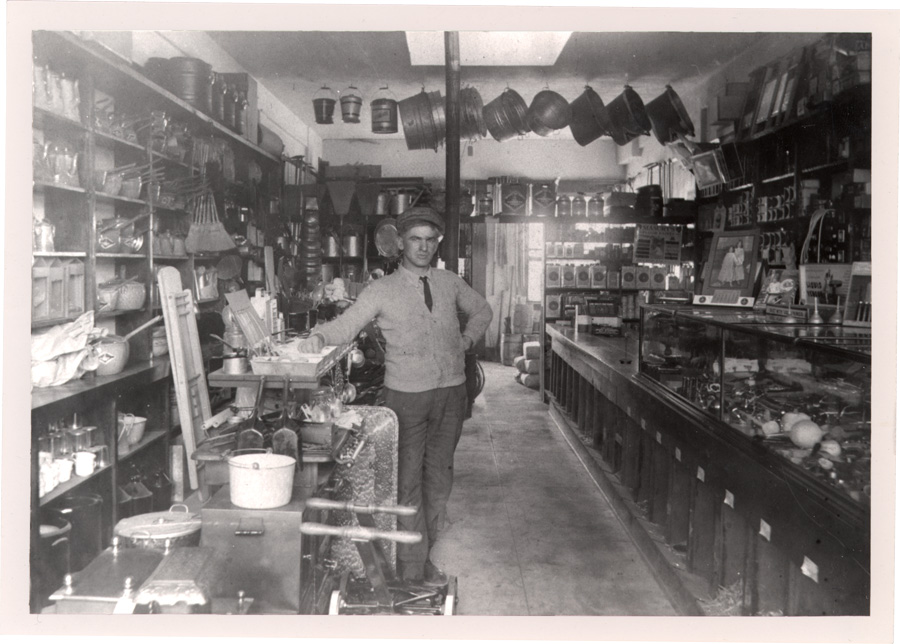 Here E. H. presides over one of those stores. His mien, his collection of pulp reading matter, his removal from Indiana to California, from one business to another, suggest he was a restless fellow, maybe a dreamer.
No handtools in sight, but those would be closer to the front, to the sides of and behind the camera. Housewares at left: enamelware kettles and pots, some glassware, jugs, a gas range, bread box, heater, lawn mowers, ash pans, large drip pan, ironing board, measuring cups, whisk and other brooms, strainers and other cooking utensils, skillets, a funnel, watering cans, lids, garbage pails, tubs, possibly some old thermos jugs. Moving around the back wall: paint, various mineral spirits, cabinet hardware, plumbing fixtures including toilet floats and valves, adjustable brass hose nozzles, washboards, oil cans, Liquid Veneer.
A display of knives to the right probably commences the tool section. Bulk nails are in bins along the floor at right. Visible in the back room are hoes and other implements, and what may be barrels of nails. Lots of afternoon light through the window. The calendar on the counter at right may be for 1913.
Popo Mac was a good guy (says Victor) who liked to do things different. After a few years in hardware, he sells the business to McEvers and starts a Rio Grande gas station. Victor remembers spelling the old man at lunch times, when he'd read his grandfather's detective and cowboy books. A little restaurant follows; Victor remembers sitting at the counter.
854 Annandale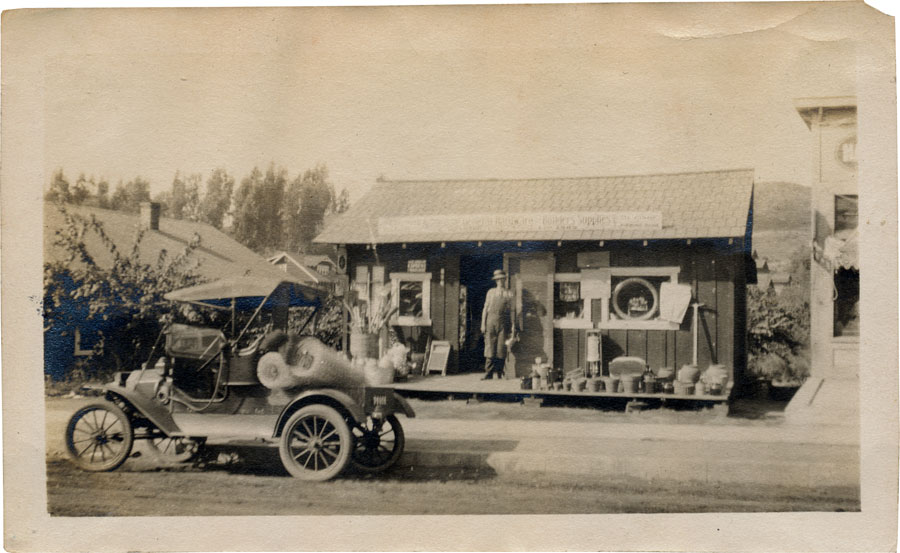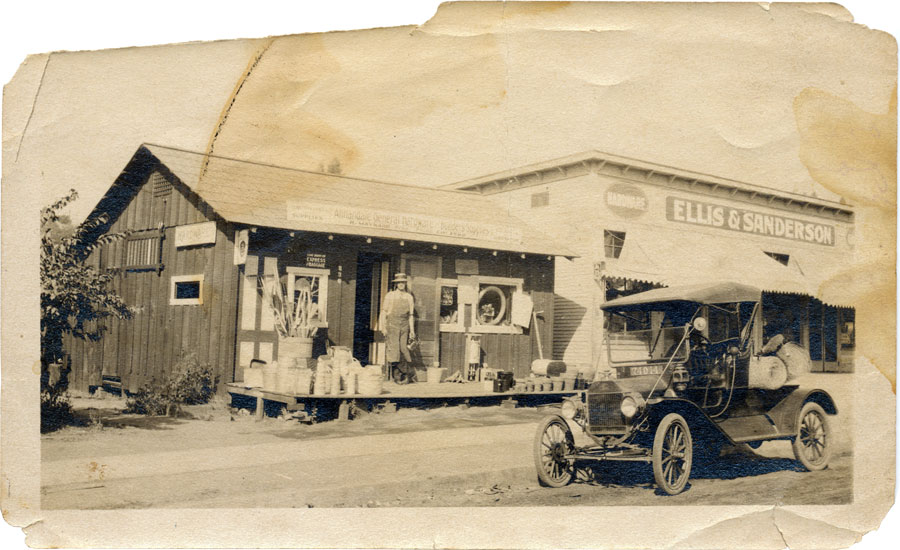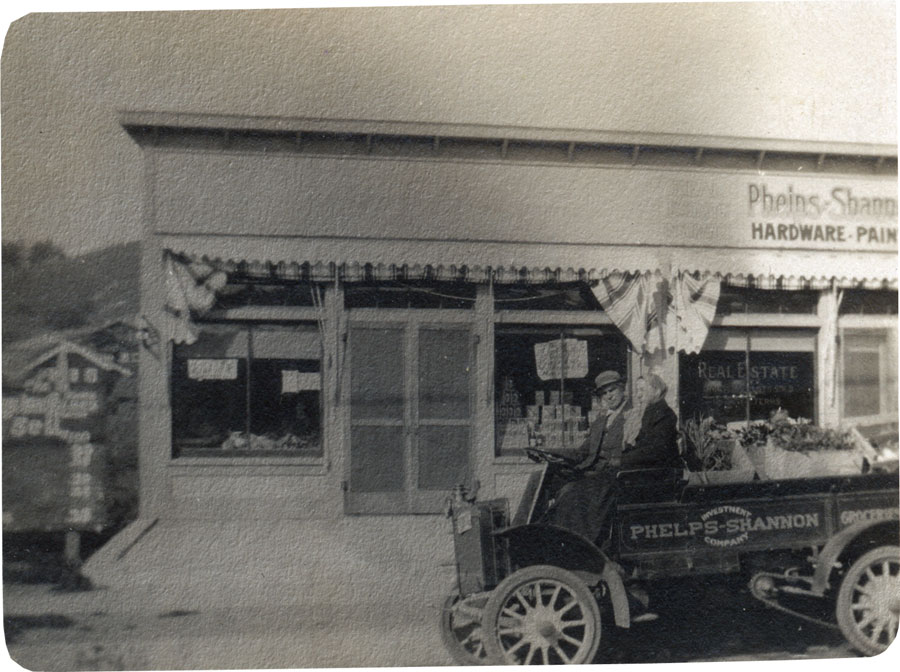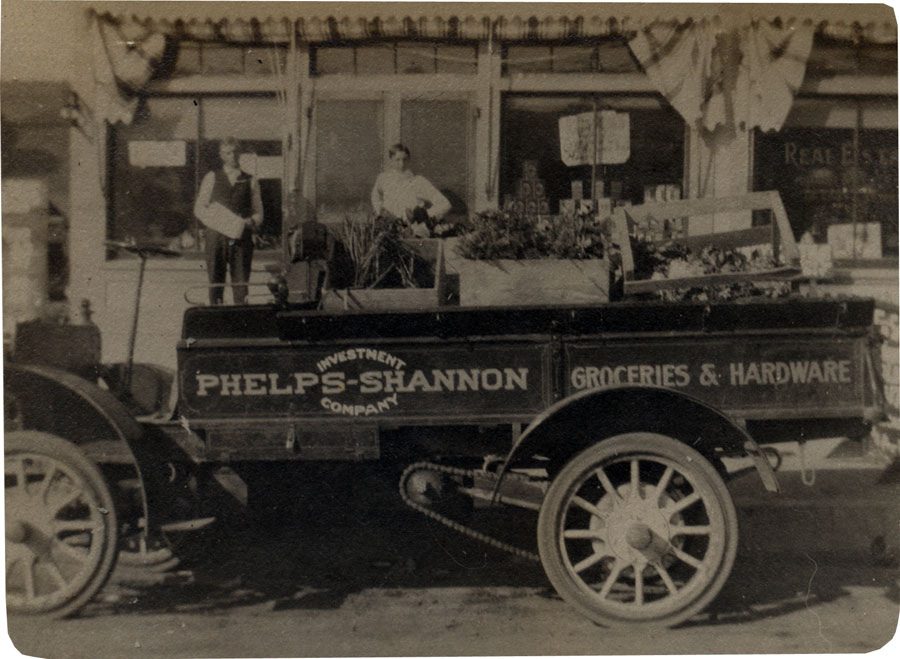 Who/what was Phelps-Shannon Investment Company? Frank Warner Phelps, B.S. 1900 University of California is described in the UC Alumni Directory 1864-1916 (1916) as secretary of that firm, at Eagle Rock Ave and Glenandale Place, and residence at R.F.D. 1, box 226, Los Angeles.
Several hundred such firms operated in Los Angeles ca 1910, according to the The American Globe 2:6 (April 1911), which lists recent incorporations here. (This is an interesting booster publication.)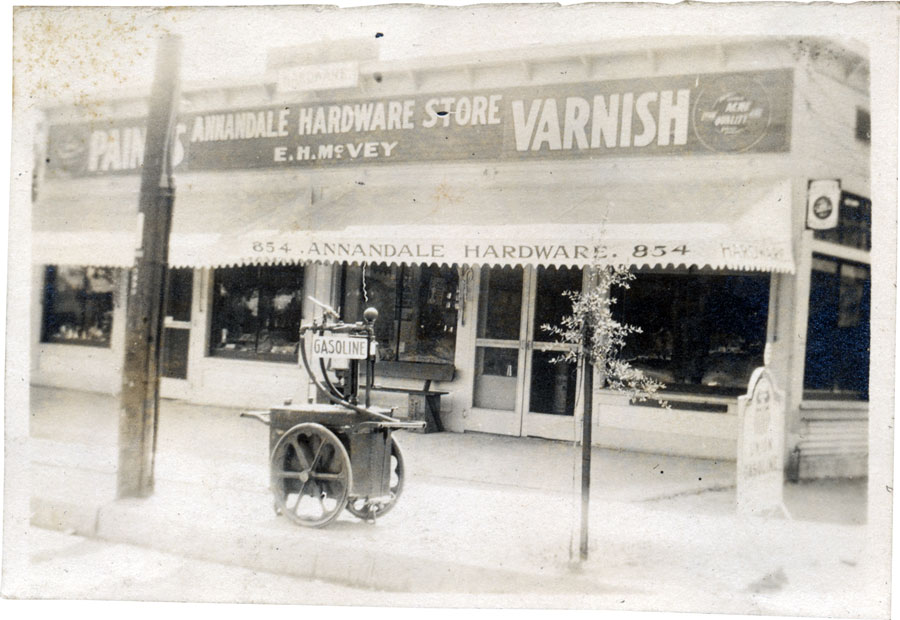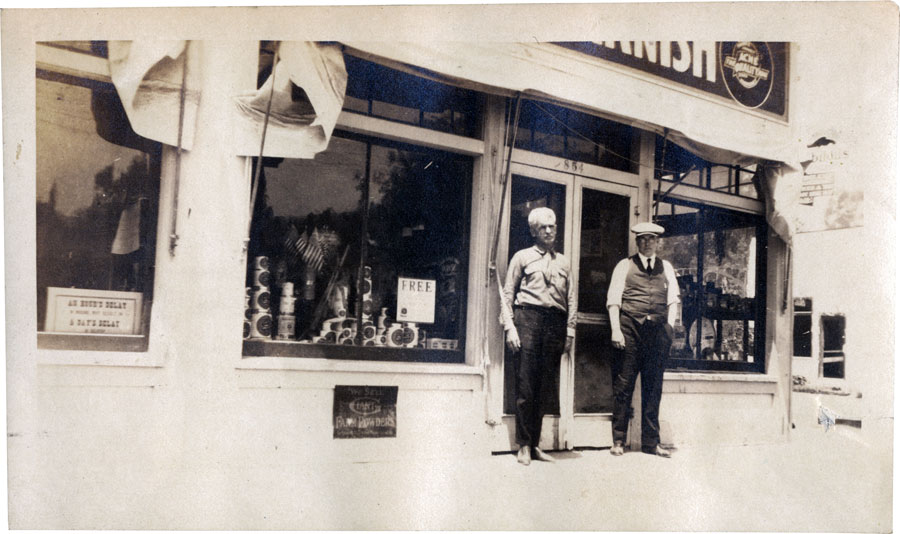 810 Eagle Rock Avenue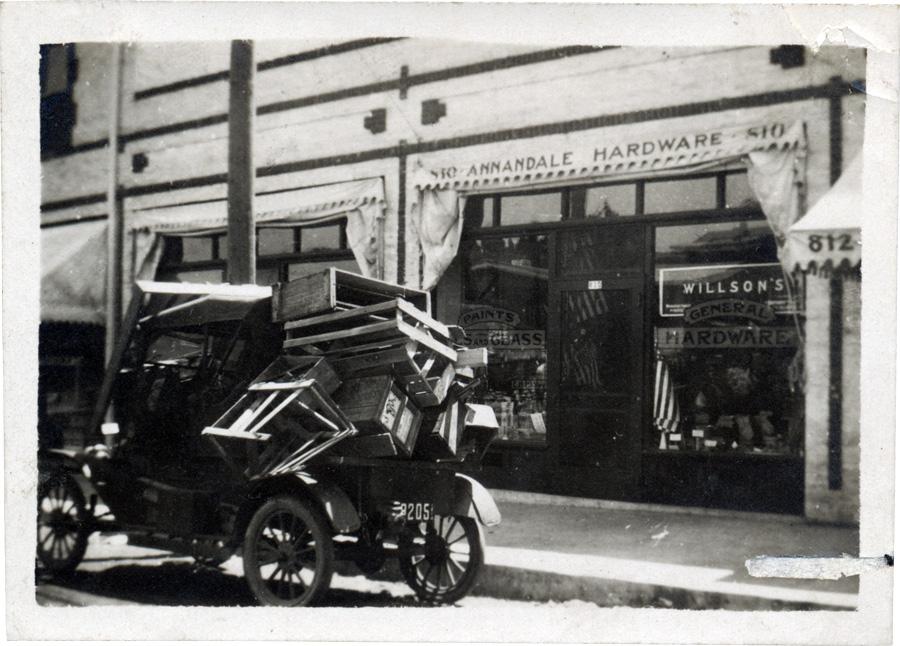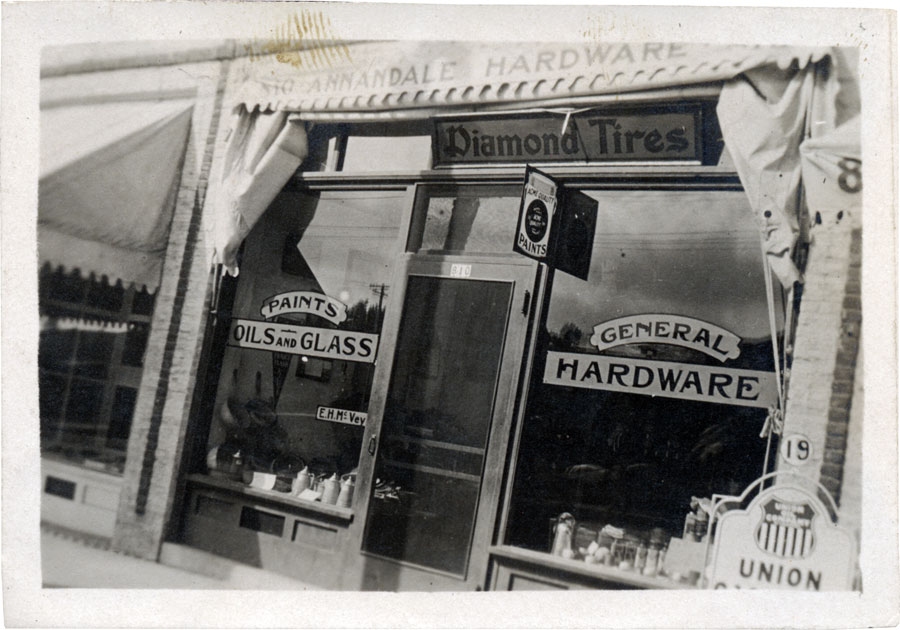 E H McVey (and others?) kept a Daily Cash Book / Ledger for the business at 810 Annandale. It contains 252 numbered and ruled pages (fewer: pp 101-14 are missing). The recto of the first flyleaf provides this information —
Phone Garv. 915
The Annandale Hdw. / 810 Eagle Rock Ave. / Los Angeles, Calif
— as well as a table of contents. The telephone number is the same as that which appears on the sign above the business at 854 Annandale.
The contents of the book do not correspond with the TOC in the front of the ledger —
Pages 1-10 Journal
11-120 Purchase Ledger
121-240 Daily Cash Book
241- Petty Cash Book
242 Money Banked
Actual contents are listed below.
| | | |
| --- | --- | --- |
| 4-7 | Mdse borrowings | list Mdse (merchandise) borrowed by McVey of Van Wig, and by Van Wig of McVey between 1914 and 1917. Van Wig may be K. W. Van Wig, (later?) an owner of Hyde Park Lumber in Los Angeles. |
| 13-19 | Purchase ledger | in neat hand |
| 20-23 | hauling | lists income from hauling and Work done with Truck. |
| 24-27 | Expenses for house (May and June 1921) | e.g., sewer tile Tee, 35 feet 1 1/2" black pipe, Cement at Eagle Rock Lmb Co, Labor outside 95.00, Labor JF Watson 75.00, Labor McVey 400.00 |
| 27 | Profit on fireworks 1921 | against expenses to suppliers Cohen-Strodthoff and Curtis Cunningham |
| 29-32 | more hauling | expenses and income, including Stock – cost of truck / 350.00 |
| 70-99 | Cash Taken in / Cash Paid out June 1920 through May 1922 | formatting changes halfway through, from paid in/out on facing pages, to single page for each month. Expenses include different suppliers, clerk hire, rent for store, telephone, water, light, &c. |
| 101-114 | | have been torn out of book |
| 120-121 | Tools sold | no date; includes shot gun at 6.00 |
| 122-247 | Cash Book | September 1913 – October 1918; in different hands, neat pen at first, hurried and rough pencil in later months. clerk hire entries include La McVey (Oct-Dec 1913) |
Pages 246-247 shows work behind this statement: Sales from Sept 1st 1913 to Feby 1st 1920 — 77 months amount to 57741.85 averaging 748.50 per month. This does not include anything I failed to collect.
These calculations may indicate that E H McVey was contemplating the sale of his business.
| | | |
| --- | --- | --- |
| 248-252 | hauling | for January and February 1916, and October-December 1915 |
See detail of last page below, showing three entries for Mr. Mann (Nos. 17, 18 and 20, for Laths and Plaster). Roy might have made or helped with these deliveries. After his return from AEF duty (as a motorcycle courier), Roy marries Ruth Mann. That's another story.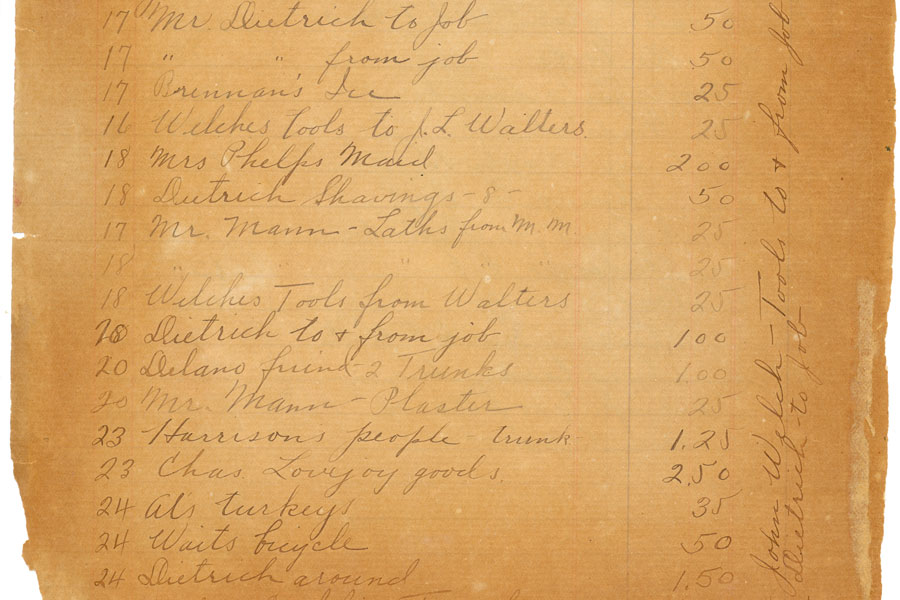 Many names and locations are mentioned in the hauling/expressing records.
The business passed out of the family when McEvers bought it (at its 810 Annandale location). Victor worked there.
later
Shown below is a two-page contract for the construction of a gas station (pumps, underground tanks, a steel building, etc.) at the southwest corner of Annandale (now North Figueroa) and Tipton Street (now Way). The contract, on Rapidservice Company letterhead, is dated 19 May and signed by E. H. and his wife Cara (Cora?) M. McVey, on 19 May 1928. It is also addressed to them, at their home, at 6330 Tipton Street, which is up the hill. (I have never gone up Tipton Street.)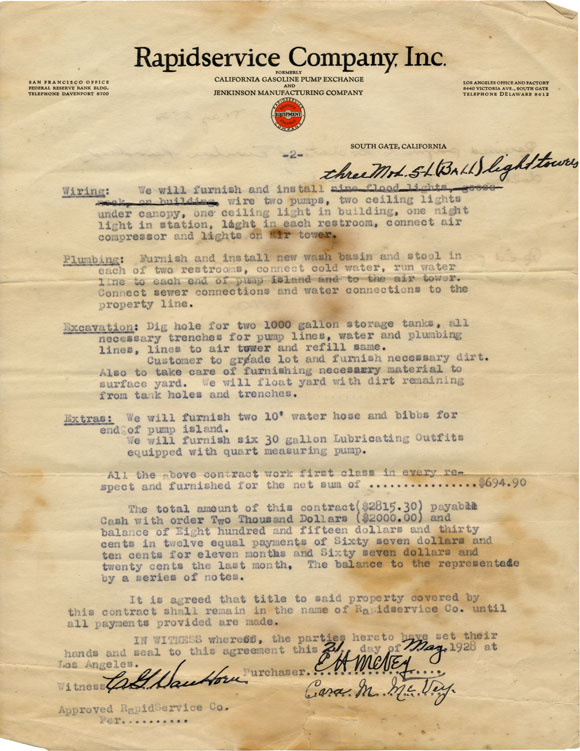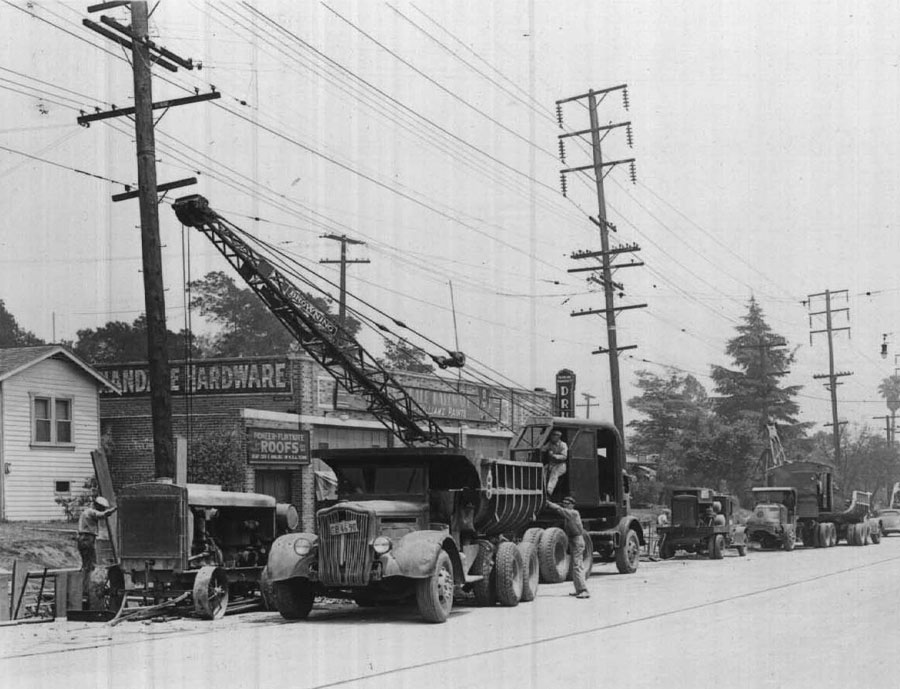 Victor reports that he used to cut and thread pipe in the garage at left of the hardware (under the Pioneer Flintkote Roofs sign). Cutting and threading was done manually. The photo indicates that the store occupies two and even three storefronts, with a drug store at the corner.
The Annandale store endures the Depression until 1940 or so, when McEvers closes the business to retire, for a time, in Glendale. Roy drives an oil truck for a paving contractor. (In May 01, Victor clarifies that it was an oiler, a truck that sprayed oil onto road surfaces. He didn't know such roads in Eagle Rock, so they must have been further out, or in? Roy worked the nozzle mechanism at the back.)
Steve (29 January 2011) says that Roy worked on an oil spreader for the Gilmore Oil Company down near Farmers Market. Gilmore was an important Los Angeles firm, later absorbed by Sunoco, which in turn was absorbed by Mobile. Steve remembered Gilmore Stadium, midget car races, etc., all of which is described in the historical section of the Farmers Market website (view the slideshow, too); the company is described here, in an essay written by Alan Darr. Gilmore Stadium was located west of Curson Avenue, surrounded by Beverly Boulevard, Fairfax Avenue and Third Street (wikipedia). The Pan Pacific Auditorium was located down there (where we used to see the Ice Capades, in the late 50s-early 60s, and where we may conceivably have gone to a hardware show).
Ruth is distressed at this fall in station (even Lois can barely speak of it today, 60 or so years later!). Fortunately, McEvers buys Hollywood-Vermont Hardware, opposite Barnsdall Park, and hires Roy back. Ruth's sister-in-law Myrtle works there as a bookkeeper.
I cannot be sure that any of the above interiors show the Hollywood store. Victor came in on Saturdays but also frequented the bookstores around Hollywood & Vine like Bennett's and Pickwick, most long gone.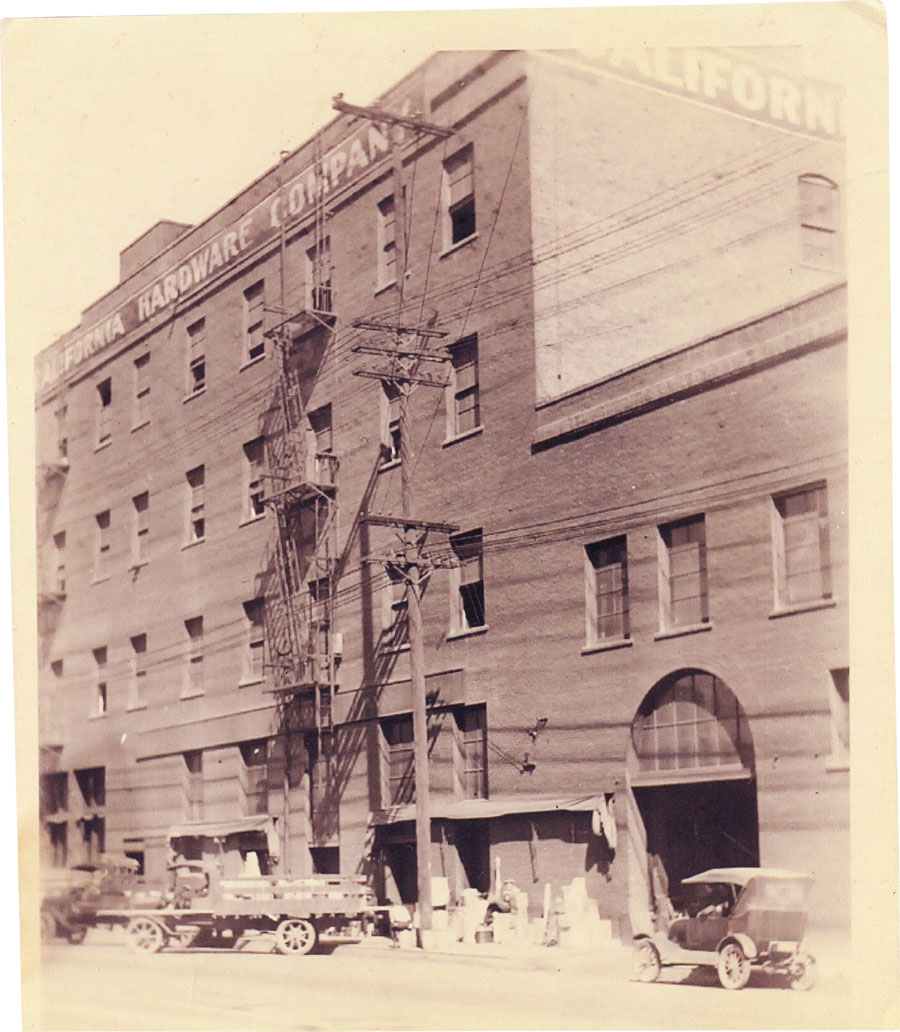 update
Elijah Halford McVey (10 March 2019)
At his findagrave listing, his years are given as 1870-1945, and — and this is new to me — two spouses are named:
Cora May Watson McVey (1872-1933), married 1892, and
Elenda Parker Harsh McVey (1877-1955), married 1934.
who was Elenda?
There's a mention of an Elenda at myheritage.com (search page for Elenda), where there's this information :

Henrietta Elenda Spence (born Parker) was born on month day 1900, at birth place, Utah, to Thomas Ramsey Parker and Elenda Parker (born Harsh).
Thomas was born on June 18 1876, in Salt Lake City, Salt Lake, Utah, United States.
Elenda was born on February 11 1877, in Corinne, Box Elder, Utah, United States.

and more/different on her own page at myheritage.
She is buried at Forest Lawn, but not at same location as E. H. and, in adjoining space, Cora.
Her gravestone reads Elenda Parker / Mother / 1877 1955
Mother of whom?