putterings 304 < 305 > 306 index
more or less given to wandering, in comparatively barren fields

      As our knowledge of any group of animals increases the desirability of devising new methods or of applying old ones in new ways becomes more evident. This we must do in order to extend our information along an ever increasing front and to avoid degenerating into puttering in comparatively barren fields. This becomes especially patent in the pursuit of experimental zoology and more particularly so in experimental field zoology. Work on the life histories and habits of anurans in tropical America along conventional lines brought this thought home most forcibly to the senior author...
ex C. M. Breder, Jr., ("with the collaboration of Ruth B. Breder and Albert C. Redmond"), "Frog Tagging : A method of studying anuran life habits," in Zoologica 9:3 (September 29, 1927) : 201 : link
same (Michigan copy) via hathitrust : link
Charles Marcus Breder (1897-1983)
American Museum of Natural History, brief bio and cv : link
—
Considering the voluntary movements of these frogs which was the more special object of study at this locality we again have a great expression of individuality to deal with, more apparent here on account of the greater number of observations...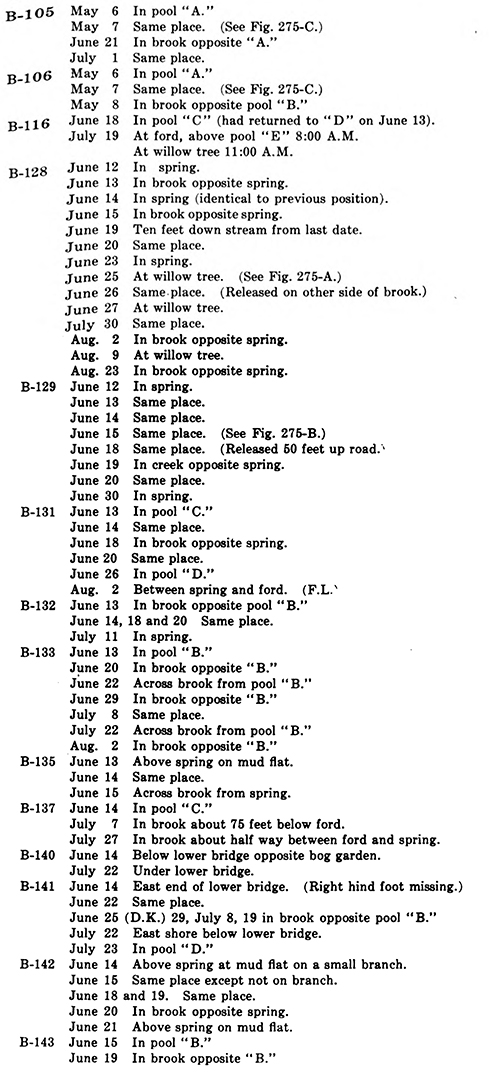 taken (and combined) from pages 216 and 218, showing movements of frogs B-105 through B-143 (incomplete) : link
Breder —
      A perusal of the above tabulation of activity and an examination of Fig. 274 will show at once that the voluntary movements of these frogs, more or less given to wandering, cannot be considered as a migration or even a seasonal movement induced by changing weather conditions for these is not sufficient unanimity of direction or time of movement to permit of such an interpretation.
p220 : link
      What caused one (B-106) to move so far upstream as to be opposite pool "B" we do not pretend to know. To infer that they move about when they do for the pure desire to change their location is rather anthropomorphic and begs the question. Therefore we disclaim the ability to explain, as yet, these wanderings.


mea culpa :
posts 305, 306 and 307 should have followed 299, but were overlooked (owing to the infirmities of age, or whateverness).