putterings 319 < 319a > 319b index
Jean Lyon (1902-1960)
reporter, cartoonist, photographer, propagandist, writer, "Himalayan recluse" —
writings, sorted; and about

It was her use of the word "puttering" in Manners of the Moment, (1938) that brought Jean Lyon into view. I could not find the etiquette book, but did find her Just Half A World Away (1954), and so began some further digging. This page lists what I have found; I am still digging (and wishing for access to the New York Sun, perhaps at NYPL...)
Why?
First, the quality of the writing — intelligent, self-reflective (particularly in the India book ), all leavened by a growing experience of the world (and some personal upheaval, and perhaps tragedy). I also wondered about the appearance of a young woman from China — who was not Chinese — at Wellesley. She was not the only one, as a look through the Wellesley yearbook for 1924 reveals.
language —
From her Harper's Magazine article "When the Communists Entered Peking" (February 1950) it becomes apparent that Jean Lyon did speak Chinese, but not fluently —
"She [a Chinese friend, with whom Lyon hopes, but fails, to interview a Communist official] began talking to me in a rapid Chinese, so rapid that she must have known I could only be getting about one-tenth of it. Again it was as though she had completely forgotten my limitations in her language. I lapsed into silence..." (p81)

▌ bar at left returns to top of page.


life : chronology and sources
life : brother, husband, father, mother (obituaries, &c.)
manners of the moment : book and available articles
other 1 : The New York Sun
other 2 : The New York Times
other 3 : 1920-1952
other 4 : Just Half A World Away : My Search for the New India (1954, 1955)


life : chronology and sources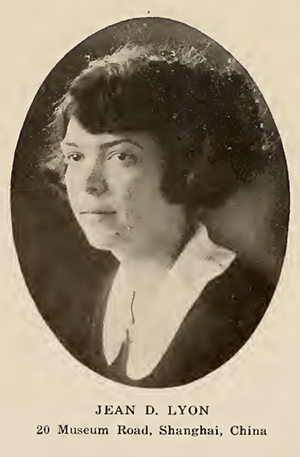 ex Wellesley College Legenda (1924)

Lyon, Jean Doolittle (Mrs Dhawan); b Mokanshan, China, Ag 7, 1902; WellesC, 24; UTS, 25-26; newspaper writer, NYSun, 29-43; staff mem, Chinese News Serv, NYCity, 39-46; correspondent in China, do (under Chinese ministry of informa), 44; publ rela in China, YWCA, Shanghai, China, 46; res, ALmura, UP India; d do, Jl 30, 1960.

ex Alumni Directory, 1836-1970, The Union Theological Seminary in the City of New York (1970) : 137 : link (pdf; large file)

expanded [ with additions in brackets, making this an abbreviated vita ] :

born Mokanshan, China (August 7, 1902)
["mountain located in Deqing County, Huzhou, Zhejiang Province, China, 60 kilometers from the provincial capital Hangzhou and 200 km from Shanghai.... By 1910 approximately 300 foreigners, mostly Americans and British, had set up summer homes on the hill..."
wikipedia : link]
Wellesley College '24
Union Theological Seminary, 1925-26
newspaper writer [elsewhere described as women's pages; cartoonist)], 1929-43
staff member, Chinese News Service (New York City), 1939-46
correspondent and public relations in China, 1946
[ independent reporter and writer, from China (1948-49) and India, New York Times (and elsewhere?) 1950s] resided in Almura [=Almora] Uttar Pradesh, India)
died [ in India ] July 30, 1960

Wellesley College Legenda (1924) : link (pdf)

This is Jean Lyon's graduating year, from which the portrait above is taken. Here are the students (including Lyon) from China; Japanese names included for personal reference :

Class of 1924 : Jean Douglass (136 North Szechnen Road, Shanghai, China), Delnoce E. Grant (Bureau of Engraving, Peking, China), Zung Nyi Loh (Nanziang, Kiangsu, China), Jean D. Lyon (20 Museum Road, Shanghai, China), Grace Zia (729 N. Szechnen Road, Shanghai, China); Yuki Domoto (Oakland, Cal.)

Class of 1925 : Chi-Liang Kwei (Tsing Hua College, Peking, China), Effie M. MacKinnon (129 Dixwell Rd., Shanghai, China), Kuo Sien Wong (2 Ninpo Rd., Shanghai, China)

Class of 1926 : Yone Murayama (14 Yachigashira Machi, Hakodate, Japan), Teruko Nakamura (care Miss Alie C. Gifford, Holden, Mass.)

Class of 1927 : Sumiye Seo (care S. Watanabe, 52 Ichiban-Cho, Kojimachi, Tokyo, Japan), Nettie H. Suzuki (Shiba Park, Shiba, Tokyo, Japan), Louise M. Wilson (Changshu, Ku, China)


Jean D. Lyon was also President of the Christian Association, and is pictured atop that association's page (166)

her own thumbnail sketch of her own life, from Just Half A World Away; My Search for the New India (1955) : 16

      This journey to India might be said to have started almost anywhere in my life. The Far East was in my blood and bones, although I had only been in China up until now. Ever since my grandfather Lyon had gone to China in 1869 as a Presbyterian missionary, a Lyon had been born every few years in China. One such birth had been mine.
      Then as an adult I had gone back to work in China — after college in America, after more than a decade of marriage and several years of widowhood, after a solid stretch of newspaper work in New York and another stretch of war-time propaganda for the Chinese Nationalist Government, and after the grey hairs in my head had begun to be noticeable. And I had found the old bond with the Orient as strong as ever.
      It wasn't until I'd lived for four months under the new Communist government that I had been able to admit that my world had split in two, and that my deeper roots lay in America.
      The split of my world had happened in alternating bursts of military upheaval and Peking tranquility.
      Then came my day to leave. I had stayed on under the new Communist regime, hoping to be able to report on it. But by military order I had, along with all of Peking's foreign correspondents, been barred from "gathering or sending news". So it had become futile for me to stay. When a berth on a freighter to San Francisco became available, I took it.

more on, from and about this book : link

Jean Lyon Dhawan, in chapter 14 "Passings," Motilal Banarsidass, Dancing with the Void : The Innerstandings of a Rare-born Mystic (2001, 2004) : 93-94 : link

Jean Lyon, author of a book on India titled Halfway Across the World [sic], was nice, kind and warm-hearted. She came to our Himalayas some 10 years ago to finish this book. She fell deeply in love, not only with the Himalayas but also with Kakoo Dhawan, who was doing research here on the "within" that is also "beyond" the transcendental Himalayas. Only last Saturday, Jean left her 50 year-old body, and within 10 hours, it was duly consumed by Sri Agni's glow at Vishwanath. "We seem to have a habit of dying here," says Wuji.
Jean was a Yankee, born in Peking, but now happily and naturally "gone native" in simple empathy with Kakoo Dhawan. Her last five years as Kakoo's helpmate were surely the happiest fulfillment of a richly eventful ego life. Her respectable, scientific and rather mental compatriots were naturally perturbed, dismayed and somewhat shocked — a swell, cute and prawd (proud) girlie going native! Wu ha da!
But did they perceive her integrity, her integrality and her ego-free natural face? Did they aware the living grace? Egojies blunder in blinkered subjective truths and in semantic term symbols. Only the Self can effortlessly aware, recognize and appreciate the Self within — and everywhere.
We see no more in anything, or anybody, than we bring with us and have sensibility and maturity in realized experience — to see through to, in intuitive insight [94] and comprehension. That which regognizes [sic] its Self is within. He who sees greatness passing by himself sees through his eyes rather than with them.
Jean's inner silence and unassertive acceptance like her simple empathy with Kakoo and Sri Himalaya were, to her fellow compatriots, a complete loss of face, of personal mask and of individuality.

from Sunyata, Dancing with the Void: The Innerstandings of a Rare-born Mystic edited by Betty Camhi and Gurubaksh Rai (2001; corrected edition Non-Duality Press, 2015) : link

—

Jean Lyon writes of her encounter with Sunyata at her isolated house near Almora — where she has gone to "write this journal of my travels through India" — in the concluding chapter of her Just Half A World Away, "Notes from a Himalayan Recluse."

Alfred Julius Emmanuel Sorensen (1890-1984), also known as Sunyata, Shunya, or Sunyabhai, was a Danish mystic, horticulturist and writer who lived in Europe, India and the US.
wikipedia : link

Kakoo Dhawan, Indian abstract artist (1929-2008)

Kakoo Dhawan was born into a well-to-do Delhi family. When he was around twenty-six years old he left his secure home and travelled north into the Himalayas. What started as a pilgrimage became a meeting with destiny.
Near the town of Almora, a well known Hill Station at that time, he came across the famous American painter Earl Brewster (1878-1957), who had already moved to India in 1935 and lived in a simple cottage above town, which later, in the Seventieth [sic], became known as "Crank's Ridge"...

"Jean Lyon, 58, Dead; Writer in Far East." The New York Times (August 31, 1960) : link (paywall)

"She studied at Wellesley College and began working as a women's page reporter for The New York Sun."


life : brother, husband, father, mother
in progress.

1 August 2023