putterings 362 < 363 > 364 index
damned if I don't b'lieve I'd 'a' weakened

Captain Daniel Prendergast was something of a character. He lived by himself in a rambling, weather-beaten old house. In order to reach it you had to turn off from the main road into a narrow, stony cart track, which wound its rough and devious way through some pasture land and brought you rather unexpectedly to the water. A little cove ran up here. There was a small and very stony beach upon which some boats lay keeled over upon their sides, a fish house and some other tumble-down buildings — also the remains of a very small and very ancient wharf... There was the smell of drying fish and sea-weed in the air...
Here he lived an ideal life, according to his own conception of it, puttering about, cooking his meals, mending his boats, drying a few fish, and sitting in the sun...
One morning, in the early part of August, as he sat on his doorstep putting a patch on a flannel shirt, he was surprised and not particularly pleased to get a visit from the minister...
ex Catherine Plumer Bement, A Spinner of Webs (Boston: The Four Seas Company, 1919) : 163
NYPL copy/scan, via google : link
same, via hathitrust : link
features one (unaccomplished) frontispiece illustration (by "M Venn" ?)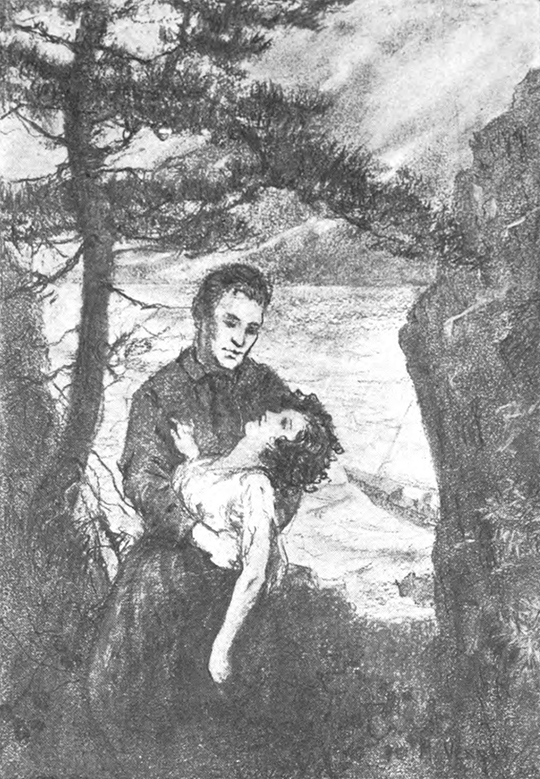 "He looked down at her soft, bright hair all rumpled and tossed by the wind..."
It's possible that the poor quality of the drawing is intentional: Helen Morrell is "working over" a picture "with a nervous energy which at times seemed quite reckless. It was intended to represent a wild and desolate scene in mid ocean. In the foreground a ship wallowed in a sensationally helpless and tragic position, her bows washed by tremendous waves..."
p24
following a conversation with the minister, Captain Prendergast ruminates —
"He didn't talk so much as some of 'em, but if he'd stayed another half an hour, damned if I don't b'lieve I'd 'a' weakened! He shook his head. "Daniel !" he admonished himself sternly. "Don't you go an' make a fool of yourself at your time of life."
p166


"A young minister's small town experiences."
in The Bookman 50:1 (September 1919) : link
and, from an advertisement for "Important New Four Seas Books" —
"If you had a message in the middle of the night from a beautiful mysterious lady who asked you to marry her, what would you do? This is only one of the exciting situations in a story interesting from start to finish, with New England characters drawn to the life — a really worth-while novel. Frontispiece. Jacket in colors.
in The Liberator 2:6 (June 1919) : 53 : link (pdf)


Catherine (Morris) Plumer Bement (1863-1952)
LoC lists Catherine Morris Plumer Bement, The Mating of Doris Dinsmore (Boston: The Stratford Company, 1927)
permalink : link
Catherine Morris Plumer, Mount Holyoke College '87
music teacher, Worcester, 88-96
search within General Catalogue of Officers & Students (1837-1911), Mount Holyoke College (1911)
link