in extremis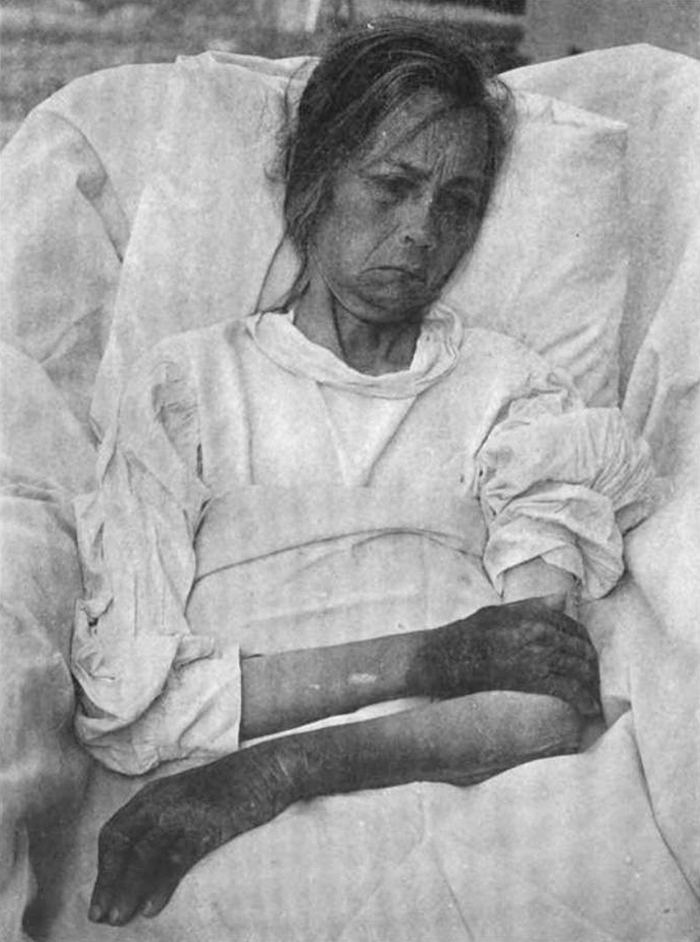 *
Fig. 3. A pellagrin in extremis, one week before death.
(cropped, to square)
George A. Zeller. "The Spread of Pellagra throughout the United States." International Clinics : A Quarterly of Clinical Lectures. Vol. I. Twenty-first Series. (1911) : 1-9
Harvard copy, digitized December 3, 2007
"Pellagra is a vitamin deficiency disease most frequently caused by a chronic lack of niacin."
At this time (1911), pellagra was not well understood, and thought to result from a germ or some unknown toxin in corn. In fact, it was a result of the modern industrial treatment of maize, that did not use lime as had been done with traditional methods. The problem began to be understood in the late teens and 1920s, mainly owing to the work of Joseph Goldberger (an interesting — and strange — story in itself); but the role of the vitamin niacin as a cure was not fully proven until the mid 1930s.
Pellagra affected women about twice as much as men, owing to preference given to men for high-protein foods at the dinner table. All of this from wikipedia.
The time was not right, by only 20, 25 years, for this sad, disappointed woman, who appears to me to have a lot of life left in her. My recent glances through scanned medical literature have yielded other images of this sort; I'm undecided if I should post them, or just let this go. As here, these photographs can be unsettling, affecting, humbling.

tags:
sadness; George A. Zeller. "The Spread of Pellagra throughout the United States" (1911); J. Goldberger